By Jorge Casuso
June 29, 2023 -- Los Angeles County's homeless population rose 9 percent last year, reaching an estimated 75,518 people, nearly three-quarters of them living on the streets, according to results of the 2023 Greater Los Angeles Homeless Count released Thursday.
The City of Los Angeles had the largest homeless population with an estimated 46,260 people, a 10 percent increase over last year, according to the homeless count conducted from January 24 to 26 by the Los Angeles Homeless Services Authority (LAHSA).
One of the largest increases took place on the Westside, where the homeless population rose from 4,604 people counted in 2022 to 6,669 in 2023, a 45 percent increase.
That was triple the 15 percent increase in Santa Monica, where the homeless population rose from 807 people to 926 this year ("Santa Monica's Homeless Numbers Rise After COVID-Driven Drop," May 4, 2023).
The Countywide increase was the result of a marked rise in the unsheltered homeless population, a trend reflected in Santa Monica's homeless count.
While the County's sheltered population remained steady at around 20,000, the unsheltered population rose 14 percent, from 48,548 people last year to 55,155. (The estimates do not include Glendale, Pasadena and Long Beach.)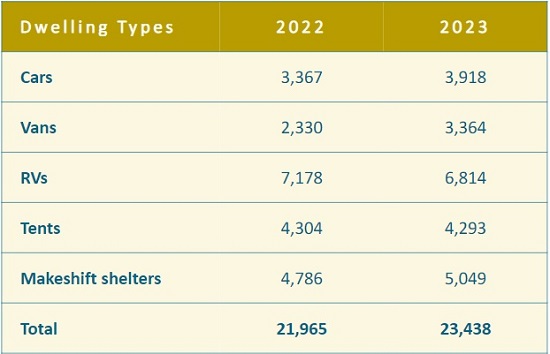 (Courtesy LAHSA)
Of those who were unsheltered, 6,814 lived in RVs, 5,049 lived in makeshift shelters, 4,293 in tents, 3,918 in cars and 3,364 lived in vans.
"The homeless count results tell us what we already know -- that we have a crisis on our streets, and it's getting worse," said Va Lecia Adams Kellum, CEO of LAHSA.
"The important thing to take away from today is that for the first time, the city, county, and LAHSA are moving with urgency to house the people living on our streets."
This month, Los Angeles Mayor Karen Bass announced that during the first six months of her administration, more than 14,000 people had moved from the city's streets to interim or permanent housing, most of them after the homeless count was conducted.
But despite successful efforts by LASHA to permanently house homeless individuals, chronic homelessness grew by 18 percent -- from 26,985 homeless individuals last year to 31,991. (The numbers do not include Glendale, Pasadena and Long Beach.)
In fact, chronic homelessness kept rising after LAHSA made 22,540 permanent housing placements in 2022, marking the fifth straight year it has made more than 20,000 placements, according to the agency.
"Today's announcement confirms why we are in a state of emergency -- more Angelenos continue falling into homelessness than we are able to house," said Los Angeles County Supervisor Lindsey P. Horvath.
"Over the last six months, we have proven that our unified approach is connecting more people to housing and services," Horvath said.
"Now we must address the root causes of homelessness by investing in families; working to make housing more affordable; and, most importantly, keep people in the places they already call home."
LA County's homeless count provides a demographic glimpse of Santa Monica's homeless population, which is highly transient.
From April through June 2022, Santa Monica's three multidisciplinary outreach teams made more than 11,000 contacts with homeless persons, indicating the city's unhoused population far exceeds the 807 people counted during one late February night last year.
The 2023 County census found that Latinos made up the largest share of the homeless population, with 30,350 individuals counted, followed by Blacks with 22,606 and Whites with 13,826.
Asians, Native Americans, Pacific Islanders and those from a mixed racial background made up the other 3,326 homeless individuals counted. (The data do not include Glendale, Pasadena and Long Beach.)
According to data self-reported on the demographic survey, 25 percent of the homeless population reported experiencing serious mental illness, while 30 percent said they experience substance abuse disorder.
Of those experiencing homelessness in LA County 48,260 were men and 22,320 were women, with 917 identified as transgender. (This data and the data below do not include Glendale, Pasadena and Long Beach.)
Of the homeless counted, 56,647 were between 25 and 64 years of age, 6,230 were younger than 17 and 4,725 were 64 or older.
Taken together, LA County's homeless population -- by far the largest in the nation -- exceeds that of 66 of the County's 88 cities.