By Jorge Casuso
March 1, 2019 -- FLOAT (FLy Over All Traffic) -- a new air shuttle service that promises to whisk commuters across the Southern California region -- views Santa Monica as a key destination, company officials said.
The company conducted a demo flight Monday from La Verne, near San Bernardino County, to Santa Monica, turning what is often a two-hour road commute into a 15-minute flight, said co-founder Tom Hsieh.
The service -- which starts at $1,250 per month -- promises an affordable alternatives for "supercommuters" driving more than 90 minutes to work each day in Southern California, company officials said.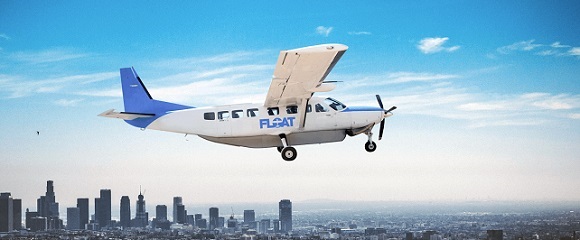 FLOAT expects Santa Monica will be key dstination (Courtesy of FLOAT)
FLOAT, which expects to launch in the next few months, hopes to tap into a market that numbers 350,000 motorists across the region, the company said.
"We want to take commuters off the freeways and give them hours back every day, for their lives, their families, and perhaps for some greater emotional sanity as well," said co-founder Arnel Guiang.
Santa Monica -- one of 26 general aviation airports FLOAT plans to use -- could be its most popular destination, Hsieh said.
"There are a lot of jobs and employers," he said. "We see a lot of demand for Santa Monica."
Some 1,000 people had signed up for the service before a media blitz this week boosted the numbers, company officials said.
"The route people listed that they're most interested in is the short jump from Van Nuys to Santa Monica," co-founder Rob McKinney told CBSLA.
Passengers are expected to fly out of general aviation airports "on the outskirts of Los Angeles or in Ventura, Orange, Riverside or Northern San Diego counties," according Bisnow, a commercial real estate newsite.
They would be flown in a 10- to 14-seater Cessna Caravan into "one of the airports around major job hubs, such as Santa Monica, downtown Los Angeles or Burbank," Bisnow said.
According to a study released by Inrix, a mobility analytics company, traffic congestion cost the average Los Angeles resident 128 hours in lost time in 2018, or $1,700 per driver, according to Inrix's 2018 Global Traffic Scorecard.
Hsieh noted that the IRS allows motorists to write off 55 cents per mile on their taxes, or $55 for a 100-mile daily commute. That compares with about $60 for the same commute on FLOAT.
According to a news release, the company "envisions hundreds of planes criss-crossing Southern California daily, taking commuters from their home cities to their places of employment."