By Jorge Casuso
March 21, 2023 -- A missing phone ringing inside a car in the parking lot of a Main Street nightspot led police to more than 20 phones stolen by what appears to be an organized theft ring of Columbian nationals.
Santa Monica police arrested three suspects -- Michael Leonardo Pico-Quintero, 31; Tatiana Yuli Arango-Chaves, 27, and Sindy Milena Peralta-Porras, 28, in the early morning hours Saturday in the parking lot of The Victorian at 2640 Main Street.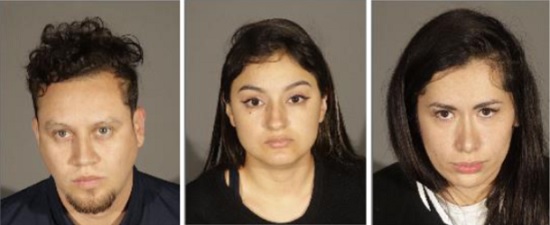 From left: Michael Leonardo Pico-Quintero, Tatiana Yuli Arango-Chaves and Sindy Milena Peralta-Porras (Courtesy SMPD)
The suspects are in police custody awaiting a court appearance after being arrested for identity theft, possession of stolen property and grand theft, said Lt. Erika Aklufi, a Police Department spokesperson.
Aklufi believes the Santa Monica thefts "seem to be part of an organized ring, but that determination will come out over time."
The arrests were made by an officer helping a patron search for her missing cell phone, she said.
As they were searching, another patron who was also missing her phone tried calling her number and the call rang inside a rental car in the parking lot, Aklufi said.
"It was being at the right place at the right moment," she said.
When the officer approached the car, she saw a phone in plain view and an open bag that contained cell phones.
The officer was given permission to search the vehicle, Aklufi said. and found more than 20 cells phones inside the Faraday bag, which blocks electromagnetic waves.
The officer also found several stolen credit cards and a black Louis Vuitton purse containing a stolen identification card, according to police.
Some of the victims of the thefts had last seen their phones at The Victorian or at Jameson's Pub at 2702 Main Street, Aklufi said.
The suspects apparently were "just going through pick-pocketing," she said. "They probably made multiple trips."
Several nights earlier a series of cell phone thefts took place in Beverly Hills, according to Aklufi.
Cell phones are a lucrative target for thieves, with the latest Apple iPhones retailing for between $729 and $1,299, according to the company's webiste.
Last July, officers with the Los Angeles County Sheriff's Department recovered 15 cell phones in West Hollywood amid a rise in pickpocket thefts.

Sheriff's Sgt. Joana Warren told KTLA that the thieves often work in teams.
"They go in there, they steal the phones, they come right back out and pass the phones to two or three other people," Warren said.
"It's very organized. They do it quickly, they do a lot of it, and then they go home for the night with up to 20 -- some nights we've seen 40 -- cell phones."
"I bump into you. You think it's just an accident, and it's gone," she said. "You think I just bumped into you."
Beach cities are often targeted by international groups that commit "distraction thefts" like those that took place in Santa Monica a few years ago, Aklufi said.
Aklufi advises people to be aware of their surroundings and watchful of their belongings, and to inform police. "These are the kinds of things you can report," she said.

Those who believe they may have been a victim of these theft suspects and need to file a stolen property report should call SMPD's non-emergency line at 310-458-8491.
Those who have information about the suspects or the incident should call the SMPD Watch Commander at (310)458-2249 (24 hours) or Detective Jauregui at (310)458-8451 or email him at Martin.Jauregui@santamonica.gov