By Lookout Staff
June 8, 2022 -- A team of Santa Monica College (SMC) design students won a competition to re-imagine MaCher, Inc. products by redesigning a travel carry bag for consumer electronics, school officials announced this week.
The presentation by five student teams took place June 1 at the Venice offices of MaCher, Inc., which designs and manufactures sustainable products that "drive human behavior and get brands noticed."
A jury of industry experts selected the winning team/project that redesigned the travel bag and "added a proposed digital companion -- a chatbot with a Welsh corgi mascot named Wren," SMC officials said.
The winning team -- Nicolas Palomino, Kalynn Porter, Hawa Camara and Yelizaveta Skibinskaya -- were given the opportunity to work with MaCher to further develop their idea.
They also won premium MaCher marketing products and a seven-night European river cruise for each winner and a guest.
"This collaboration is an excellent opportunity for the students to gain real-world experience and professional feedback on their work," said MaCher Partner Patrick Marsden.
It's also an opportunity for the Certified B Corporation and EcoVadis Platinum-rated Sustainable Company "to be inspired by innovative and fresh perspectives from the next generation of designers," Marsden said.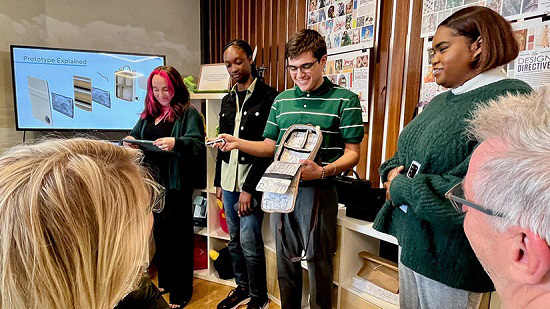 SMC winning design team (Courtesy SMC)
For the SMC design students, the eight-week project was "the first time we have worked with a real brand and company, so we were trying to be really mindful and put our best foot forward," said Porter, one of the winning students.
Team member Skibinskaya said the group's goal in re-imagining MaCher's product was to "make something that was modular, that could have many more lives."
"We wanted something that was easy to use, that could go from [containing] your gadgets to going around your trip in a matter of seconds," Skibinskaya said.
While MaCher is in the top 1 percent of sustainable businesses worldwide, the company is "paradoxically part of one of the dirtiest and most inefficient industries in the world, the promotional products industry," Mardsen said.
The company's mission, he said, is to "shrink the massive, dirty and inefficient promotional products industry into something smaller, more effective, and far more sustainable."
The collaboration with MaCher is the final capstone project in the Major Studio 2 class taught by Maxim Safioulline in the junior year of the Interaction Design program, according to SMC officials.
The project spans two other classes taught in the Spring 2023 semester -- Product Design and Project Management.
"This firmly orients our students towards both imagining the exciting possibilities in cross-disciplinary design and being able to concretely organize their implementation," Safioulline said.
"These skills are invaluable on the job market for the innovative and solution-oriented design industries," he said.
Design program alumni have gone on to work for JPMorgan Chase & Co, Google, Snap Inc., Sony PlayStation, Lyft, Amazon Prime Video and other companies.
To learn more about SMC's Bachelor of Science in Interaction Design program visit ixd.smc.edu.