By Lookout Staff
July 21, 2023 -- Unstable land in a portion of the Santa Monica Bluffs will force the emergency closure of major access roads in and out of the city on Tuesday and Wednesday, City officials announced Friday.


The City, in coordination with local and regional partners, will be temporarily closing portions of the westbound I-10 freeway, northbound Pacific Coast Highway (PCH) and the northbound Moomat Ahiko Way on-ramp.

The "necessary emergency work" will "proactively address land instability identified in a portion of the Santa Monica Bluffs," City officials said.

"Crews will use a large crane with clamshell attachment to remove the top portion of the unstable bluff and slowly break it apart for hauling off-site."
To complete the work and ensure safety:
The northbound Moomat Ahiko Way on-ramp to PCH will close beginning at 11:30 p.m. on Tuesday, July 25, and


The westbound I-10 at Lincoln Boulevard through northbound Pacific Coast Highway to the California Incline will close beginning at 2 a.m. on Wednesday July 26.

All routes will reopen by 12 p.m. (noon) on Wednesday, July 26, 2023.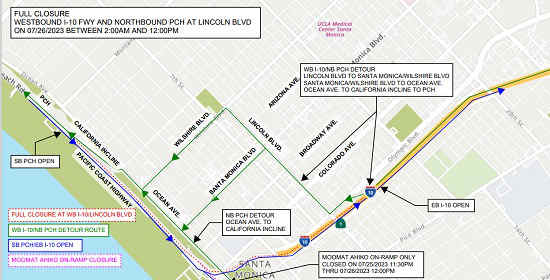 Road closure map
The Lincoln Boulevard offramp to eastbound I-10 will remain open, as will the California Incline, the southbound PCH and the eastbound I-10.
Traffic from I-10 Freeway needing to access Pacific Coast Highway will be detoured at the Lincoln Boulevard offramp and rerouted using Wilshire Boulevard and Santa Monica Boulevard, Ocean Avenue and The California Incline.
A detailed schedule of the closure is available at the City's website here. A downloadable pdf version of the detour map is available here.