By Jorge Casuso
January 27, 2023 -- The Santa Monica Police Department is bracing for potential protests after the release Friday of footage showing the violent beating of motorist Tyre Nichols by Memphis police officers.
Demonstrators have taken to the streets in Memphis, as police departments prepare for protests in major cities across the nation, including New York, Sacramento, Los Angeles, Atlanta, Philadelphia and Seattle.


"As our Nation mourns, we recognize and defend the right to peacefully assemble and exercise our First Amendment rights," Police Chief Ramon Batista said in a statement Friday.

"Our department is committed to protecting those who wish to exercise their freedom of speech with the same vigor that we protect our city.

"While Freedom of Speech and its expression through peaceful gatherings are the cornerstone of democracy; acts of violence, lawlessness and thievery will NOT be tolerated."
SMPD is actively monitoring local and national information "to determine if there are any planned actions in Santa Monica or surrounding areas," Batista said.
The Department is also "mobilizing and preparing city resources should the need arise," he said. "We will remain vigilant and will have a highly visible public safety presence throughout the city."
SMPD is closely coordinating with area law enforcement partners and is working closely with the City's Fire, Transportation and Public Works departments and the Office of Emergency Management "to ensure additional resources, if needed, are ready to be deployed."
"The priority of the SMPD, and the City of Santa Monica remains the safety of our residents, visitors, merchants, and their employees," the Chief said.
Protests began breaking out after the Memphis Police Department released disturbing footage Friday evening showing the brutal beating of Nichols, a 29-year-old FedEx worker allegedly pulled over for reckless driving.
The gruesome footage from police body cameras and stationary cameras shows an initial struggle after Nichols is stopped and ordered to get out of the car. An officer shoots his Taser and Nichols runs away.
After chasing Nichols down, officers repeatedly kick and beat him with a baton, as he lays on the ground. He is then lifted to his feet and punched in the head four times before he falls down and officers take turns beating and kicking him again.
Nichols was transported to a local hospital, where he died from critical injuries three days later.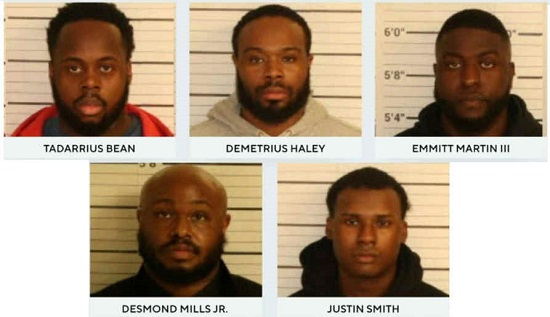 Courtesy Memphis Police Department
Five officers -- Demetrius Haley, Tadarrius Bean, Emmitt Martin III, Desmond Mills and Justin Smith -- have been charged with second-degree murder.
Memphis Police Chief Cerelyn J. Davis called the incident "heinous, reckless, and inhumane." She said the Police Department has not found proof to substantiate the reckless driving allegation.
Batista said SMPD "unequivocally condemns the actions of the five officers involved in this incident, as they do NOT represent the principles of our profession."