By Lookout staff
August 9, 2023 -- Three Santa Monica College (SMC) students are participating in internship research projects in Massachusetts after winning a prestigious fellowship founded by MIT researchers.
The Station1 Frontiers Fellowship (SFF) established in 2016 offers a fully-funded ten-week "education, research and internship experience focused on socially-directed science and technology," college officials said.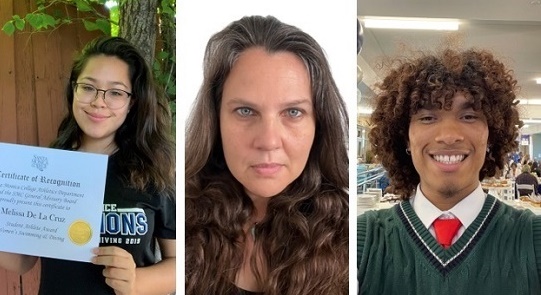 (L-R) SMC STEM majors Melissa De La Cruz, Florence Larsonneur Amurrio and Micheal Mendizabal (Courtesy SMC)
The three students participating in the fellowship program are Biology/chemistry major Florence Larsonneur Amurrio, electrical and computer engineering major Melissa De La Cruz and applied mathematics major Micheal Mendizabal.
The three were selected from among hundreds of applicants after an "extensive application and interview process" that resulted in the selection of "the most outstanding and high potential candidates," SMC officials said.
"The Station1 Frontiers Fellowship includes an internationally-recognized curriculum and a research internship with a leading partner organization in an emerging field of science and technology, officials said.
Larsonneur Amurrio is participating in a research internship with GC Therapeutics, a Station1 partner organization that is "leveraging synthetic biology to design novel cell therapies for the treatment of incurable diseases."
As a Station1 fellow at the Cambridge, Massachusetts firm, Larsonneur Amurrio is "playing an active role in understanding the clinical unmet need that cell therapies can tackle," school officials said.
The SMC student is "researching the patient population and addressable market for cell therapies, creating a strategic analysis of possibilities to undertake, and helping play a role in designing life-saving treatments."
The Station1 Frontier Fellowship curriculum "is rigorous and pushed us to think deeply about what it really means to do socially-directed and sustainable research, said Larsonneur Amurrio, who came back to school after 20 years in the industry so she can "finally apply to med school."
De La Cruz is participating in a research internship with Altaeros, a Station1 partner organization based in Somerville, Massachusetts that was founded at MIT in 2010.
Altaeros is focused on "developing and deploying innovative real-world infrastructure solutions to solve the most difficult infrastructure challenges."
De La Cruz will help review large datasets on Altaeros' SuperTower aerostat platform, which is "the world's first autonomous, commercial tethered aerial platform that can be used for a range of applications in energy, telecom, and agriculture."
"Being part of the STEM program at SMC exposed me to multiple opportunities, including Station1," De La Cruz said.
"My goal is to go into research on deep learning models such as neural networks during my time at UC San Diego and to also focus on getting more technical experience through software engineering internships as an undergrad."
Mendizabal is participating in a research internship with Station1 partner organization Atacama Biomaterials Inc., a cutting-edge biotechnology start-up company.
The company, which has locations in Boston and Santiago, Chile, has a mission "to revolutionize the field of biomaterials through sustainable and innovative solutions."
The research project Mendizabal is participating in is "focused on cellulose-based sustainable materials for pharmaceutical packaging including digital twin CAD modeling and simulation.
"Since math can be a general field, this fellowship provides valuable experience," Mendizabal said. "It will push me forward in life towards my goal, which is to work with technology -- something that's always changing."
In addition to Station1, SMC's STEM students have interned at NASA-JPL, the National Oceanic and Atmospheric Administration, Caltech, USC and the Smithsonian.
SMC offers options for study in numerous STEM fields including biology, pre-medicine biology, chemistry, earth science, computer programming, physics, engineering and mathematics. To learn more about SMC's STEM program, visit smc.edu/STEM.