By Jorge Casuso
September 27, 2022 -- Rents held steady in Santa Monica this month as the median rent nationwide dipped for the first time since last December, according to Apartment List's monthly rent report released Tuesday.
Still, Santa Monica's 2.9 percent year-over-year rent growth is far slower than the 13 percent jump at this time last year, according to data compiled from listings on the popular website.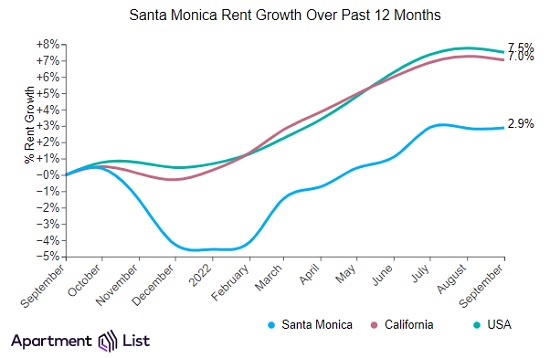 And it lags behind the state average year-over-year rent growth of 7.0 percent, as well as the national average of 7.6 percent, down from 17.1 percent at this point in 2021.
The timing of the 0.2 percent dip nationwide in September "is consistent with a seasonal trend that was typical in pre-pandemic years," the researchers wrote.

"Assuming that trend continues, it is likely that rents will continue falling in the coming months as we enter the winter slow season for the rental market."
The recent slowdown is "geographically widespread" with only 33 of the nation's 100 largest cities seeing rents increase over the course of the month, with rents decreasing in 69 cities and remaining flat in eight.
Most cities in the Los Angeles Metro area saw slight increases or remained stagnant, with the largest increases taking place in Laguna Niguel (2 percent), Irvine (1.7 percent) and West Hollywood (1.4 percent.)
Rents in Los Angeles remained flat at a median of $1,680 for a one-bedroom apartment and $2,220 for a two-bedroom.
Long Beach had the least expensive rents in the region, with a one-bedroom going for $1,540, according to a listing of 23 cities.
By far the highest rents were in Marina del Rey, where a one bedroom went for a median rent of $4,590, despite a 1.2 percent dip in September.
Newport Beach had the second highest median rents in the LA Metro area, with a one-bedroom going for $2,700, followed by Lake Forest ($2,560), both in Orange County.

Despite a substantial cooling in the market from last summer's peaks, rents are continuing to rise faster than they did before the coronavirus emergency, the data show.
Although continued modest price decreases are projected to close out the year, 2022 is still on pace to end with rent growth exceeding any year from 2017 to 2020, according to the report.

Apartment List Rent Report data is drawn monthly from the millions of listings on the site, according to the website.
The report calculates one-bedroom and two-bedroom rents and aims to identify transacted rent prices, as opposed to the listed rent prices. To view the full report click here.