By Jorge Casuso
June 24, 2022 -- Those were not real shots you might have heard fired at John Adams Middle School (JAMS) Friday morning. There were no victims killed and the active shooter wasn't really taken into custody.
Still, the "active threat" training staged by the Santa Monica Police and Fire departments could have been real given the recent string of high-profile incidents involving active shooters, and it served to test the agencies' ability to respond.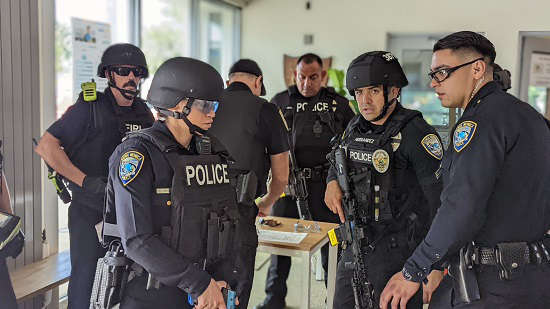 Officers prepare for action (Photos courtesy of SMPD and SMFD)
"The objective of this exercise was to train our first responders and test their response to high-risk, complex, events involving multiple agencies and potentially multiple victims," police and fire officials said in a statement Friday.

JAMS provided a realistic setting for police and firefighters to "learn the limits of their equipment and tactics in an educational, non-emergency environment," officials said.
"The best learning environments provide hands-on experience dealing with live simulated scenarios," the statement said.
Officers apprehend suspect
"Through this coordinated training effort, police officers and firefighters are able to hone their skills and sharpen their teamwork in preparation for real emergencies where seconds count."
The training drill used "simunitions" -- non-lethal projectiles that give off a sound -- and smoke simulations like those used in movies that both look and sound real, officials said.
SWAT Team
Volunteer actors from the community -- who played a bus driver slumped over the wheel, a downed officer and a prone, handcuffed suspect -- also helped make the training exercise as realistic as possible.
Police and fire officials alerted those in the area -- both before and during the exercise -- that what they were witnessing was not a real incident.
"Our primary concern remains the health and safety of all residents and visitors to Santa Monica," public safety officials said. "This training was designed to increase our ability to protect the Santa Monica community."