By Jorge Casuso
Editor's note: This article was updated at 11 a.m. Monday.
June 2, 2022 -- Natalie "Nicki" Lewis was always running or climbing, and though political office or social status was never her goal, she made history and rubbed shoulders with the rich and famous.
Lewis -- fondly known as "The Rock Lady" who for the last two decades climbed the Fourth Street stairs carrying small rocks for weights -- died on May 27 after a short illness. She was 89.
Before taking to the stairs every day, Lewis, who lived in Santa Monica since 1971, climbed mountains and ran through countries around the world..

Natalie "Nicki" Lewis and her son Daniel at the
top of the Fourth Street stairs

Always at the forefront of the latest health craze, she roller-skated with NFL legend Jim Brown on Venice Beach in the 1970s and befriended Muscle Beach weightlifting regular Arnold Schwarzenegger.

She backpacked the Swiss Alps and Pyrenees and climbed Mt. Whitney several times, once nearly freezing to death reaching the nation's highest peak.

She also ran -- in Spain and France, Italy, Switzerland, Greece and Yugoslavia. She ran 100 miles in 22 hours through the mountainous Central Valley and trekked the brutal 220-mile Muir trail.

In 1983, Lewis fulfilled a longtime dream and, at age 50, made the Guinness Book of World Records by becoming the fastest woman to finish a Trans-America run from Santa Monica to Greenwich Village, New York.

"I just love adventure," she told a running magazine when she was 75 and a regular on the Fourth Street stairs. "Anything crazy, I want to do it. If it keeps me moving, I'll do it."


Born Natalie Bernstein in Providence, R.I. on Nov. 20, 1932, Lewis participated in figure skating shows in New York and moved with her then-husband Will Lewis around New England before heading West.
The family moved first to Venice, then to Santa Monica in 1971, where she raised five sons who attended local schools.
She stopped smoking cigarettes and embraced the latest California health crazes, taking up jogging, skating, biking and running.
"She was always all out at the beginning of the crazes," said her son Daniel Lewis, a former sportswriter for The Outlook who now works for a sports agent.
Lewis also quietly championed social issues -- advocating for free smoking zones in her senior high rise building before the City Council approved smoking bans and opening the eyes of those in power to the plight of the homeless.
Former City Attorney Bob Myers recalls how in the mid-1980s Lewis invited him on a run "to see firsthand how the homeless were struggling to survive" ("LETTERS -- Nicki Lewis Was a Champion for Social Justice," June 3, 2022).
"We met in pre-dawn darkness on the steps of City Hall and headed out for a run through the nooks and crannies of downtown Santa Monica," Myers wrote after learning of Lewis' death.
"It was an eye-opening experience, one that for me suggested that any government response to homelessness must be guided by the compassion."
According to Daniel, his mother "would always tell me how she met somebody who was down on their luck, and she took time to find out about their life story.
"I saw her hug a scruffy homeless man who called out to her by name," Daniel said. "She had compassion for strangers."
Said son Robert Lewis, "She would always talk about the homeless, talked to many over the years.
"It's so surreal that my Mom after death has brought out her incredible ability to care about all people."

In 1983, Lewis achieved a lifelong goal.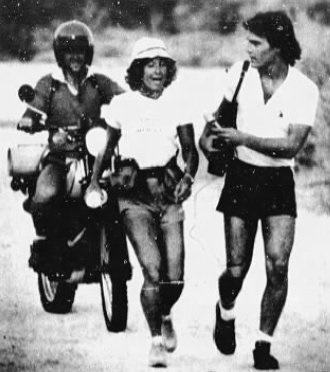 Lewis followed by boyfriend David Hermitage during her record-breaking cross country run (Courtesy Ultrarunning History)
"As a child, I always used to think I was working harder than anyone else," she told the Evening Outlook in 1986. "I said I was going to make it into the Guinness. I just didn't know for what."
At age 50, accompanied by her then boyfriend David Hermitage on a scooter, Lewis set out to do just that -- running 3,224 miles from Santa Monica to Greenwich Village in a record 75 days.
Averaging 43 miles a day -- the equivalent of running from Santa Monica to Pomona -- Lewis wore out a pair of sneakers and was sent two new pairs by Nike for the historic run.
Having reached her goal, Lewis set out climbing mountains and began writing, authoring several books, and took up painting and photography.

To stay fit, she became a self-styled "yoga fanatic" and enjoyed ballet and riding her bike. She also began climbing the Fourth Street stairs -- 189 concrete steps that ascend 115 feet from the ground.
Every morning for two decades she climbed the steps with her rocks an average of 20 times a day, until the stairs closed during the coronavirus shutdown in March 2020.
"That hurt her a lot," said her son, Daniel. But it didn't stop her from walking three miles to Trader Joe's once a week. "She was active all this time."
When those who climbed the stairs with Lewis learned she had died, they found it hard to believe, Daniel said.

"They figured she would go on forever."
Lewis is survived by her twin sister Mickey Stanzler, her five sons, Keith, Andrew, Gregg, Daniel and Robert, four grandchildren, Olivia, Anna, Lilly and David, and three great grandsons, Matthew, Benjamin and Keith.