By Jorge Casuso
January 10, 2022 -- Rents in Santa Monica dropped for the second straight month in December after posting gains through the first 10 months of 2021, according to Apartment List's latest monthly report.
The 2.8 percent decrease in December comes after rents dropped by 1.8 percent in November and reflects a nationwide trend that saw the "first measurable price decline since 2020," according to the report released last week.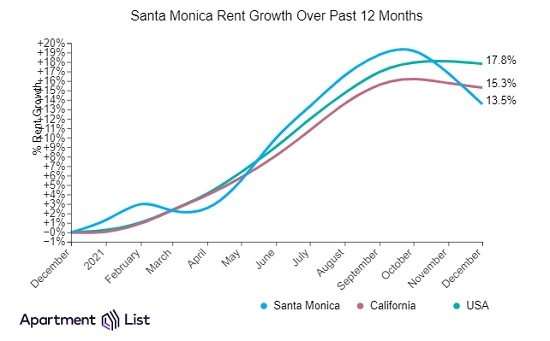 The 0.2 percent seasonal dip nationwide comes after a year of record-setting growth that saw median rents jump by a "staggering" 17.8 percent after the COVID shutdown sent rents plummeting in 2020.
Year-over-year, median rents in Santa Monica grew by 13.5 percent, after falling by 16.2 percent at this time last year, the report found.
Local rents are down by 7.6 percent since the start of the pandemic in March 2020.
In Santa Monica, median rents currently stand at $2,029 for a one-bedroom apartment and $2,552 for a two-bedroom, based on listings on the popular rental site.

For the first time, median rents in Culver City surpassed those in Santa Monica, with one bedrooms going for $71 a month more and two bedrooms for $38 more.

The two Westside cities posted higher rents that neighboring Los Angeles, where the median rent for a a one-bedroom was $1,170 and $2,250 for a two-bedroom.
Irvine continued to post by far the highest rents in the region, with median rents of $2,910 and $3,600 for one- and two-bedrooms respectively, marking a 30.6 percent rent growth year-to-year.
Santa Monica's falling rents reflect a nationwide cool down that saw rents fall in 61 of the nation's 100 largest cities, according to the report.
The price drop was especially steep in Seattle and San Francisco, "signaling that these pricey tech hubs may be entering a second phase of COVID-related rental market softness," the report said.
"More broadly, our national vacancy index ticked up again for the fourth straight month, as we enter 2022 amid an easing of the tight market conditions that characterized 2021," Apartment List researchers wrote.
The market cool down comes after rent prices spiked an unprecedented 17.8 percent nationally over the course of 2021, far outpacing that of any year since the listing site began keeping tabs in 2017.
"Although many renters may be rightfully dismayed by last year's record-setting rent growth, the new year is bringing with it a bit of relief," researchers wrote.
December marked the only month in 2021 that saw the site's national rent index fell, declining by 0.2 percent.
Despite the dip, the rental market remains competitive after 99 of the nation's 100 largest cities saw rents jump more than 10 percent in 2021, with the country surpassing a median rent of $1,300 for the first time ever.
"Despite a recent cool-down, many American renters will remain burdened throughout 2022 by historically high housing costs," the report concluded.
Apartment List Rent Report data is drawn monthly from the millions of listings on the site, according to the website.
The report calculates one-bedroom and two-bedroom rents and aims to identify transacted rent prices, as opposed to the listed rent prices. To view the full report click here.