By Jorge Casuso
April 28, 2022 -- Santa Monica rental rates fell flat in April after rising last month for the first time since October, according to Apartment List's monthly report released Thursday.
The median rent for an apartment rose 0.1 percent, after increasing 2.8 percent in March. That increase reversed decreases totaling 5.5 percent over the previous four months.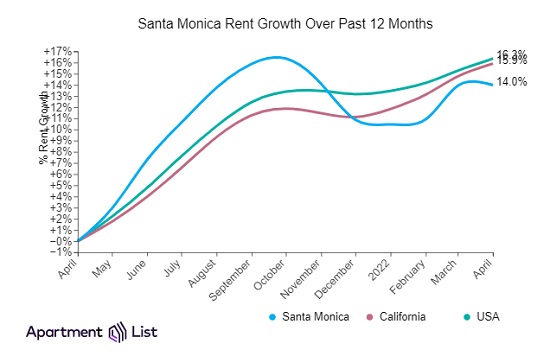 Currently, median rents in Santa Monica stand at $2,094 for a one-bedroom apartment and $2,634 for a two-bedroom, based on listings posted on the popular rental site.
Year-over-year, rent growth in the beach city currently stands at 14 percent, compared to -14.7 percent at this time last year.
Santa Monica's 0.1 percent increase lagged behind the average national increase of 0.9 percent in April, signaling a slowdown nationwide.
"So far this year, rents are growing more slowly than they did in 2021, but faster than the growth we observed in the years immediately preceding the pandemic," according to the report.
Year-over-year rent growth nationwide currently stands at a "staggering" 16.3 percent, "but most of that growth took place last spring and summer," the report said.
Rents increased this month in 93 of the nation's 100 largest cities, with cities in Florida and Arizona continuing to see some of the fastest growth.
Only the San Francisco Bay Area still lags pre-pandemic rent levels, although only slightly.
Minneapolis, Washington, D.C., and Seattle are still slightly trailing pre-pandemic rents, "but in these markets, the discounts do not extend metro-wide," the report said.
In the LA Metro area rent growth in April remained relatively flat, with Laguna Niguel seeing the biggest increase at 1.4 percent, followed by Glendale and Anaheim with 1.3 percent.
Costa Mesa saw the biggest dip at -0.8 percent, followed by Pomona at -0.6 percent, according to the report.
Irvine remained the most expensive of the larger cities to rent an apartment in the LA Metro area, with a two-bedroom median of $3,529, nearly $1,000 more than Santa Monica.
Year-to-year, Santa Ana saw the fastest rent growth in the metro area, with an increase of 22.5 percent. The median two-bedroom currently costs $2,301, while one-bedrooms go for $1,784.
Long Beach has the least expensive rents, with the median rent for a two bedroom at $2,029 after rents increased 13.2 percent over the past year.
Apartment List Rent Report data is drawn monthly from the millions of listings on the site, according to the website.
The report calculates one-bedroom and two-bedroom rents and aims to identify transacted rent prices, as opposed to the listed rent prices. To view the full report click here.