By Lookout Staff
January 8, 2020 -- Santa Monica residents may not have been able to gather under the Miramar's iconic fig tree this holiday season, but that didn't stop them from helping the city's most needy.
The Meet Me Under the Fig Tree annual holiday donation drives received more than 4,500 pounds of non-perishable food the Westside Foodbank will distribute to individuals and families in need.
They also collected 250 pieces of clothing for clients of Chrysalis, a local non-profit job agency that provides employment services for low income and homeless adults.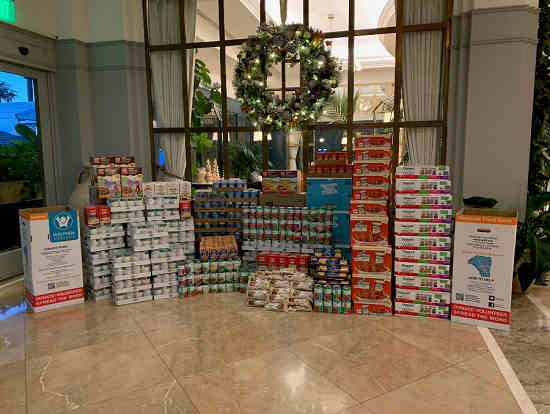 Photos courtesy of the Fairmont Miramar Hotel and MSD Partners
And they collected more than 450 blankets that will be provided to individuals in need through The People Concern and West Coast Care.
"We really missed having the community gather under our Historic Tree this year," said Ellis O'Connor of MSD Partners, which owns the Miramar.
"But we are proud that we were able to modify our annual tradition in a meaningful way and give back to those most in need in our community,"
The annual event -- which has become a staple of the Holiday season -- was canceled in order to comply with the State's Safer-at-Home order, hotel officials said.
For more than a decade, the event held under the fig tree planted in 1879 by Santa Monica founder John P. Jones has featured snow, live performances, pictures wih Santa and a variety of games.
But while the festivities were canceled, the spirit of the season survived to help those struggling to make it through the COVID-19 pandemic.

"With everything going on in the world and in Santa Monica, we are grateful for the Miramar's on-going support that will help hundreds of individuals and families in these most difficult times," said Deputy Director Genevieve Riutort.
Misti Kerns of Santa MoniCARES -- a coalition of representatives from Santa Monica's tourism industry -- praised the Miramar and MSD Partners for giving back to those in need and supporting local agencies.
"Our community missed the magic of Meet Me Under the Fig Tree this year, but we are excited to continue our annual partnership with the Miramar and MSD Partners," said Kerns, who heads Santa Monica Travel & Tourism (SMTT).
Those who would still like to contribute can donate directly to the Westside Foodbank, Chrysalis, The People Concern and West Coast Care.