By Jorge Casuso
April 28, 2021 -- Santa Monica police on Sunday used a medication that blocks the effects of opiods to save a victim from overdosing at Virginia Avenue Park.
The incident took place shortly after 6 p.m. when officers responded to a call reporting an overdose at the Pico Neighborhood park, said Lt. Rudy Flores.
When they arrived, the officers were told by the man who had made the call that he had discovered his girlfriend had overdosed on Oxycodone in her home.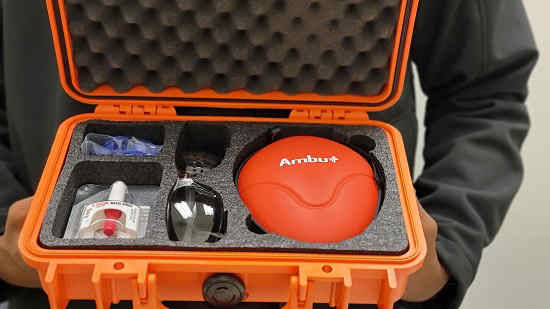 Narcan kit (Photo Courtesy of Santa Monica Police Department)
"He immediately began to transport her to a local hospital, but while driving he noticed her condition declining," said SMPD spokesman Lt. Rudy Flores.
"He pulled over at Virginia Avenue Park and immediately called for help," Flores said.
The responding officers noticed the victim was "pale, unconscious, and non-responsive," Flores said. They retrieved their Naloxone kit and administered the medication to the victim "intranasally."
"The victim responded positively and was subsequently transported to a local hospital for treatment."
Known under the brand name Narcan, Naloxone is commonly used to counter decreased breathing in an opioid overdose.
Narcan -- which has been used more than 14 times by SMPD personnel since the the program kicked off in January 2019 -- "causes no harm when administered," Flores said.
The medication "blocks opioid receptors in the brain, therefore temporarily reversing the effects the opioids cause such as respiratory arrest," he said.
More than 81,000 drug overdose deaths were recorded in the U.S. in the 12 months ending in May 2020, a record number for a 12-month period, according to the Centers for Disease Control (CDC).
"While overdose deaths were already increasing in the months preceding the 2019 novel coronavirus disease (COVID-19) pandemic, the latest numbers suggest an acceleration of overdose deaths during the pandemic," the CDC said.
"Synthetic opioids (primarily illicitly manufactured fentanyl) appear to be the primary driver of the increases in overdose deaths."
Oxycodone, commonly sold under the brand names Roxicodone and OxyContin, is an opioid medication usually taken by mouth to treat moderate to severe pain.