By Lookout Staff
April 21, 2021 -- A Santa Monica College short student film about a half-Latina, half-Arab U.S. Marine coping with the aftermath of the Iraq War will be screened at the prestigious Cannes Film Festival this year, colege officials announced this week.
Written and directed by SMC film student Niccolo Rolim, the film -- titled "Broken Layers" -- was accepted into The 24th American Pavilion Emerging Stude­ nt Showcase during the 2021 Cannes Film Festival.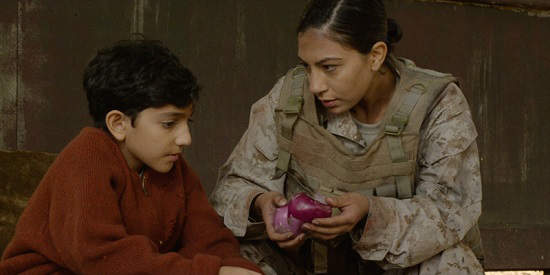 Still from SMC student film "Broken Layers" (Courtesy SMC Film Production Program)
It marks the sixth year an SMC film is screened at the American Pavillion and the only film by a community college student chosen this year, college officials said.
"'Broken Layers' is both a highly engaging story and a haunting meditation of the aftermath of war," said Salvador Carrasco, who heads SMC's Film Production Program and served as the film's executive producer. "It is also a powerful artistic testament."
The film is a "humanist portrayal" of the war and its aftermath as experienced by Rosa, who is grappling with her mixed immigrant background.
"Those who expressed patriotism for their adopted country via military service motivated me to make a film," Rolim said.
It is also an exploration of "the ways in which the children of immigrants reconcile their ancestral heritage with the dominant culture of their adopted country," the filmmaker said.
The inspiration for "Broken Layers" came from "witnessing friends and family struggle to establish a cultural identity as immigrants," Rolim said.

"As a first generation American, I often felt a sense of otherness while growing up and in turn I became fascinated by the personal journeys that immigrants and their children undertook in pursuit of the American dream."
"Broken Layers" combines a "nuanced performance" by Rawan Hage as Rosa, the "stylized yet realistic visuals" of Milana Burdette and her cinematography team and an "unforgettable" soundtrack by Mixtape Quartet, Carrasco said.
"This is the kind of film that makes us proud of what we've accomplished in the few years of existence of the SMC Film Production Program," he said.
The other SMC shorts that have screened in competition at the Emerging Filmmaker Showcase in Cannes are "Solidarity" (directed by Dustin Brown), "Cora" (directed by Kevin Maxwell), "Spaghetti Romance" (directed by Carrie Finn, in co-production with CinemadaMare), "Life in Color" (directed by Bishal Dutta, in co-production with Bridge the Divide Media), and "The Attempt" (directed by Daniel Despart).
Several films that have played at The American Pavilion Emerging Filmmaker Showcase have gone on to be shortlisted for Academy Award nominations.
For more information on The American Pavilion at Cannes, visit www.ampav.com.
SMC offers an Associate of Science degree and Certificate of Achievement in Film Production. To learn more, visit www.smc.edu/filmproduction or email Carrasco_Salvador@smc.edu.
The film program and the resulting films are on the "Santa Monica College Film Program" channel on YouTube.