By Lookout Staff
September 10, 2020 -- Police are asking for the public's help in finding three suspects involved in a robbery in Downtown Santa Monica last month.
The robbery -- which was captured on video -- took place on Thursday, August 20 at around 8:50 p.m. near the 1500 block of 6th Street just north of Colorado Avenue, police said.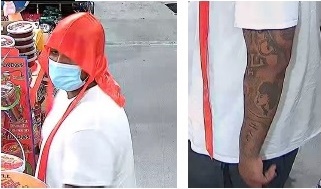 Robbery suspect 1 (Courtesy SMPD)
The female victim was standing on the sidewalk after exiting her vehicle when one of the suspects grabbed her purse, said Lt. Joseph Cortez, the Police Department spokesman.
"The victim was pulled to the ground and into the street," Cortez said.
The video captured by a surveillance camera "shows the suspect running towards a red SUV occupied by two additional individuals," he said.
Detectives later located additional footage captured when the suspects attempted to use the victim's credit card at a 21 Liquor Mart at 1732 W. Rosecrans Avenue in Gardena, Cortez said.
Anyone with information about the incident should call Santa Monica Police Detective Ismael Tavera at (310) 458-8401 ext. 2256 or at (310) 458-8941.