By Jorge Casuso
June 25, 2020 -- Santa Monica's shopping districts will begin looking a little more like bazaars after the City on Thursday gave merchants and restaurants the go-ahead to expand in front of their businesses.
The order issued by Interim City Manager Lane Dilg allows shops and restaurants to use the public and private spaces as the City moves to safely reopen businesses after the coronavirus shutdown.
The move comes as the City finishes expanding the use of the public-right-of-way on Main Street by temporarily reallocating parking and vehicle turn lanes to expand access for pedestrians, diners and shoppers.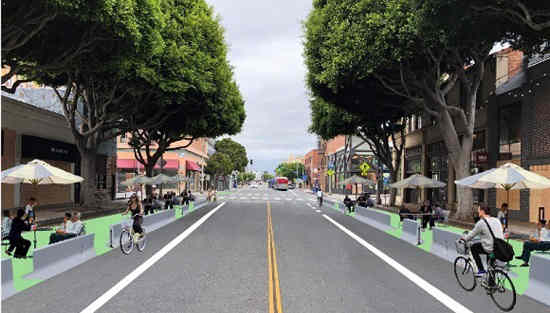 Rendering of temporary redesign for Main Street (Courtesy City of Santa Moica)
"We are taking a measured approach to reopening with the goal of supporting safe operations for our local businesses to prevent the spread of COVID-19," Dilg said in a statement Thursday.
"With expanded space to shop, dine and exercise, we hope our community will feel safe to get outside and enjoy our amazing City with public health measures in place," she said.
Thursday's order allows businesses to establish temporary outdoor commercial areas for dining and retail sales in on-street parking areas, loading spaces and adjacent sidewalks, City officials said.
Portions of the Pier, Third Street Promenade or privately-owned parking lots, courtyards or other outdoor spaces can also be used with the consent of the owner or tenant.
"All businesses are required to implement LA County Department of Public Health reopening health protocols throughout their entire business space, both indoors and outdoors," City officials said.
Outdoor festivals and beer gardens are prohibited due to the County's physical distancing requirements.
To participate, businesses must have a current business license and proof of insurance and sign a temporary encroachment agreement.
They will not be charged to apply for the temporary use of the public spaces through Labor Day, and applications will be approved within 48 hours.
Thursday's order also waives existing outdoor dining license fees through August 31 and extends the deadline for applications for extensions of the delinquency date for business license renewals to that date.
The authorization for temporary use of public sidewalks, parking spaces and private space is effective through September 7.
On Friday, the City will complete the Al Fresco - Vibrant Main Street Corridor Project, which temporarily eliminates most street parking and leaves a single vehicle and bike lane in each direction between Pico Boulevard and Pier Avenue.
The City's economic recovery efforts are being led by the Santa Monica Economic Recovery Task Force in partnership with business improvement districts and community partners.
For more information or to download the application visit santamonica.gov/economicrecovery/support.