By Jorge Casuso
June 5, 2020 -- Like hundreds of local businesses, Santa Monica Homeopathic Pharmacy saw its reopening plans smashed in a matter of hours during a spasm of lawlessness Sunday.

Instead, owner Steve Litvak -- who was prepared to reopen his store after it was shut down in mid-March by the cornavirus pandemic -- found himself picking up the pieces after being assaulted.
"We didn't expect anything like this to ever happen," said Litvak, whose family started the Santa Monica business in 1944. "The pharmacy got destroyed."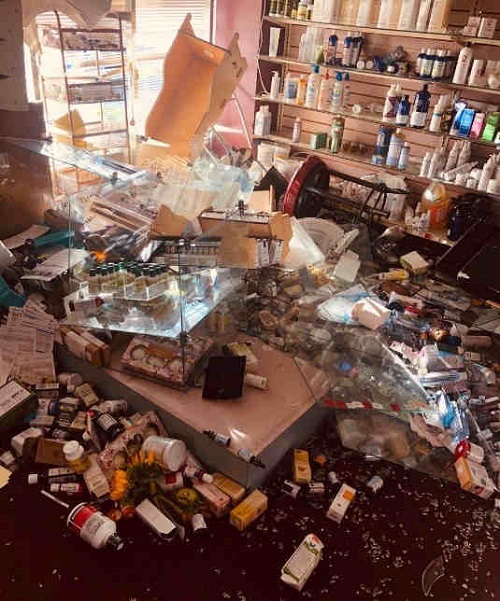 Santa Monica Homeopathic Pharmacy after looting (Photos courtesy of Steve Litvak)
The shop near 6th Street and Broadway was one of approximately 80 local businesses ransacked by bands of looters who swept through the heart of the city unchecked by police ("Santa Monica Demonstration Turns Violent, Looters Ransack Stores," June 1, 2020).
When he arrived from his Orange County home at 3:30 p.m., Litvak found the female employee who had alerted him standing outside the door trying to protect the store.
"I couldn't believe what I was seeing," Litvak said. "It was a mob, 40, 50, 60 people on every corner.
"There were hundreds of people walking down Broadway breaking windows," he said. Some were in their early teens. "They were tearing apart anything in their path."
Litvak joined his worker, and they began to shout at the passing looters. "We were loud and obnoxious, and overall it was working," he said.
But when he went to move his car into a secured parking, he was assulted by three men before he could get inside.
Litvak -- who is in his early 60s and is 6 feet tall -- said he saw "a very big man running toward me, 230 to 250 pounds."
He felt a blow to the head, then a kick from another man that "took me down to my knees.
"I came up swinging from the adrenaline, and they scattered," Litvak said. "I was dizzy."

He wasn't sure if he heard a passing siren that may have scared the men off, but he jumped back in the car and got out.
"I tried to call 911 but couldn't get through."
Litvak drove back to Orange County, followed by the employee and her boyfriend.
As he left he saw a customer who "stood outside the store and shooed people away," Litvak said. "She was putting her life in her hands."
Later, when Litvak tried to report the looting and property damage online, the website wouldn't take the information, he said.
Employee sells goods outside store after partial reopening
Santa Monica Homeopathic was one of 76 local businesses that had "visible signs of looting," according to damage assessments completed by City teams.

A total of 225 businesses had general damage, such as visible broken windows and doors; 48 had other "vandalization" and ten had fire or smoke damage.
At Santa Monica Homeopathic most of the windows were broken, several computers and three cash registers were stolen, and looters made off with between $4,500 and $5,000, Litvak said.
"They broke counter tops," he said. "They took things apart. They did things that didn't make sense. It seems they were trying to cripple the business."
Litvak believes the looters were upset when they failed to find prescription drugs in the store.
"They couldn't find the drugs they were looking for," Litvak said, noting that they left most of the bottles of vitamin supplements behind.
It could have been worse, Litvak said. The looters, who were ransacking the store in the dark, left the business' server and the computers with the emails and UPS orders behind.
Still, the damage costs not covered by insurance "are astronomical," said Litvak, who started a gofundme page.
Livak, who was treated at an Orange County hospital and released, said he was surprised that police allowed the violence to get so out of control.
"It didn't have to be as bad as it was," he said. "They had 24 hours to prepare. They'd seen what a big protest did everywhere else.
"There's no way you can get so many people there unless it is promoted on social media."
By Wednesday, Santa Monica Homeopathic Pharmacy was up and running, selling merchandise outside the store, although the doors remained closed, Litvak said.
Seeing what his employees had done to defend and reopen his shop "just broke me down," he said.
On his gofundme page Litvak wrote:
"Although we had hoped that our insurance would cover at least 40-50% of the damages incurred during the looting, we were sorely mistaken.

"Unexpectedly, we must pay for the replacement of all the shattered windows, replacement of all damaged flooring in the pharmacy top to bottom, and the damage to the building from boarding up the store.

"These unexpected costs, not covered by insurance, are astronomical," Litvak wrote.
As of 3 p.m. Saturday, the page had raised nearly $57,000.