By Jorge Casuso
January 23, 2020 -- After returning to the City where she launched her career as a municipal servant nearly 30 years ago, Assistant City Manager Katie Lichtig will retire in April, City officials announced Thursday.
Lichtig helped run several of Southern California's wealthiest cities before returning to Santa Monica in October 2017 as Assistant City Manager/Chief Operating Officer.
Since then, she has overseen 11 departments and 2,300 staff and "shepherded the City through a reimagined budget process and the move to performance management," City officials said Thursday.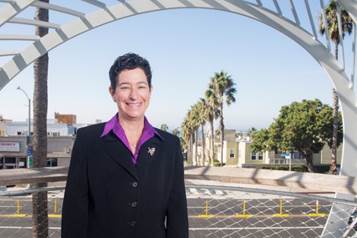 Katie Lichtig (Courtesy City of Santa Monica)
"That we reached out to bring Katie back home tells you all you need to know about how Santa Monica feels about her," said Mayor Kevin McKeown.
"Katie's been an indispensable core part of every achievement our city takes pride in."
After a nationwide search that drew strong competition, Lichtig was tapped in August 2017 to fill a post that was restructured as a partnership with the City Manager, officials said.
The new role placed a strong emphasis on managing performance and strategic planning, City officials said.
"Katie has been a tremendous leader and partner in her role as Chief Operating Officer," City Manager Rick Cole saidn in a statement Thursday.
"Her love for this community is apparent in how she's approached decisions, working tirelessly to make local government work better and cost less.
"We are grateful she brought her talents back to Santa Monica to complete her remarkable career in public service leadership," Cole said.
During her first tenure in Santa Monica -- from 1992 to 2001 -- Lichtig coordinated the City's earthquake recovery efforts and played a key role in the construction of its Public Safety Facility.
She also developed and administered the City's capital budget, managed policy documents for the City Council and implemented the City's performance measurement program.
Before rejoining the City, Lichtig served as City Manager for the cities of San Luis Obispo and Malibu, and as Assistant City Manager/Chief Operating Officer for the City of Beverly Hills.
"Public service has defined my life and it has been my honor to work on behalf of the City of Santa Monica," Lichtig said. "After 35 years, I am ready to start a new chapter.
"I take this step into retirement with tremendous gratitude for everything this community has offered me both inside and outside the organization."

Lichtig's last day will be April 9.

She will be replaced on an interim basis by Andy Agle, the City's director of Housing and Community Development, while the City launches a "thorough and open search" for its next COO, officials said.