By Jorge Casuso
February 13, 2020 -- Firefighters rescued a man Wednesday afternoon who had fallen part way down the bluffs below Palisades Park in an incident that is not altogether unusual, Fire Department officials said Thursday.
Firefighters who responded to the incident that took place on the 1200 block of Pacific Coast Highway (PCH) at around 3:30 p.m. found the man was unable to get to safety on his own, officials said.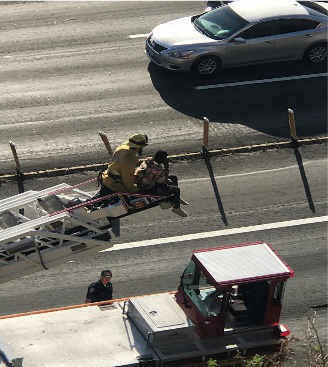 Firefighters resucue man from bluffs (Courtesy of SMFD)
Two engines and the Department's Urban Search and Rescue Team reached the victim from PCH using a 100-foot aerial ladder.
"Firefighters on the ladder grabbed the patient and brought him to safety," said Capt. Eric Himler, the Department's spokesperson.
The man was transported to a local emergency room for evaluation and found to have suffered "super minor injuries," Himler said.
Santa Monica police shut down the northbound lanes on PCH during the 20-minute rescue operation, he said.
It is not uncommon for the Fire Department to rescue persons who find themselves trapped on the brush-covered bluffs overlooking the Pacific.
The most common incidents include people who slip after crossing the railing from the park, those attempting to commit suicide or the homeless who camp on the bluffs, Himler said.
"The homeless need to be rescued less," he said. "They're used to going up and down."
In one instance a man walking a dog with his girlfriend followed the animal after it crawled under the railing, Himler said.
In other cases people who frequent the park after drinking in nearby bars climb over the fence.
"They get too close to the edge and slip," he said.