By Lookout Staff
October 31, 2019 -- Black churches and the concentration camps of WWII are among the inspirations for new dance pieces performed by Santa Monica College's Synapse Contemporary Dance Theater this weekend.
The concert by the widely acclaimed troupe that features an array of dance styles takes place Saturday at 4 and 7:30 p.m. and Sunday at 7:30 p.m. in The Broad Stage at the SMC Performing Arts Center at 11th Street and Santa Monica Boulevard.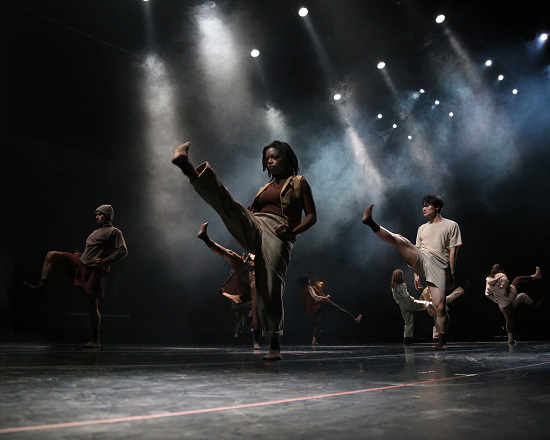 Santa Monica College's Synapse Contemporary Dance Theater (Photo by Charles Mark-Walker courtesy SMC)
The centerpiece of the performances is Synapse's restaging of the two culminating movements of "Songs of the Disinherited," a masterwork by renown 20th century choreographer Donald McKayle.
The third movement of the work, "Angelitos Negros," is a "towering depiction of female strength and a study in black majesty," while the final movement, "Shaker Life," is "a joyous entry into the spiritual life of the black church," concert promoters said.

Premiered in Los Angeles in 1972, 'Songs of the Disinherited' chronicles the marginalization, suffering, and joy of African Americans in the United States."
The concert also features the premiere of "A-15510," "an abstract portrayal of life and relationships in the concentration camps of WWII" by SMC dance professor Jae Lee, promoters said.
Lee, who is Synapse's artistic co-director, has worked with a variety of renowned dance companies and choreographers.
Also premiering at the concert is "Encounter," a contemporary piece of SMC dance professor Seda Aybay thst "illustrates spontaneous interactions in life" set to the music of Dave Brubeck's "Take Five."
Aybay's original works have toured nationally and internationally, receiving numerous awards.
The concert also features works by Synapse's co-director Mark Tomasic and faculty choreographers Seda Aybay, Angela Jordan, Cihtli Ocampo and Sophie Monat.
Also creating new dance works for the performance are student choreographers Liam Gifkins, Amira Murphy, Jackie Riedel, Julisa Figueroa, Aya Nakaguchi and Ariel Scott.
Founded more than 40 years ago, the student troupe has "a longstanding reputation for artistic excellence and innovation" and has performed throughout the nation, concert promoters said.
Tickets for the weekend's performances are available at smc.edu/eventsinfo or by calling 310-434-3005—range from $20 to $23. Parking is free.