By Lookout Staff
October 29, 2019 -- The Beach Boys' surf sounds and Pixar soundtracks will be featured at a free concert by Santa Monica College's Emeritus Concert Band in November.
The free performance takes place at 1 p.m. on Sunday, November 3 in the Broad Stage at the SMC Performing Arts Center, at the intersection of Santa Monica Boulevard and 11th Street.
The concert opens with the iconic "Olympic Fanfare and Theme" by John Williams and feature music by Michael Giacchino from Pixar movies, as well as classic compositions by Brian Wilson.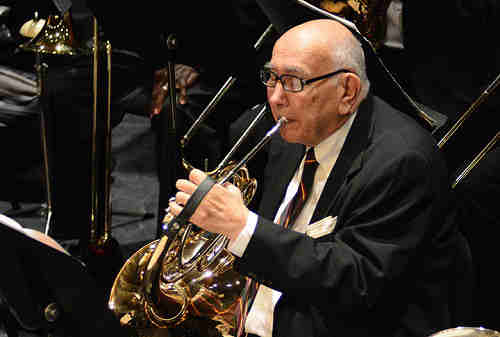 Member of SMC's Emeritus Band (Courtesy SMC)
The "eclectic" concert will close with the rousing "Occidental March" by John Philip Sousa, concert organizers said.
The band -- which is is made up of brass, woodwinds and percussion and composed mostly of retirees -- will be conducted by Yosuke Miyoshi.
"The SMC Emeritus Concert Band has prepared a delightful arrangement for this concert," said Dr. Scott C. Silverman, Associate Dean of SMC Emeritus.
"The songs for the concert will resonate with everyone in the family, and it will be a fun afternoon together."
Founded in 1968, SMC's Emeritus Concert Band is made up of musicians with a wide range of ages. Some are new-comers to tthe band, while others have played for decades with the band and are in their eighties and nineties.

Band members have included a father and son duo, an aerospace engineer, an emergency room physician and retired teachers, as well as former members of military bands and former leaders of school bands.
"The variety of musical and life experience that each band member brings to the group fuels an environment of ongoing inspiration," organizers said.
The 60-member band boasts a musical library of more than 800 arrangements, ranging from John Phillip Sousa marches and Broadway show tunes to rock and roll.
Seating for the concert is on a first-arrival basis. There is ample free parking on the premises.
The band is part of Santa Monica College's Emeritus program, established in 1975 to offer free classes and special programs to older adults.
Those who need accommodation due to a disability should contact Stephanie Schlatter at schlatter_stephanie@smc.edu or 310-434-4313, at least five business days before the concert.
For information on SMC's Emeritus College, visit www.smc.edu/emeritus or call (310) 434-4306.