By Jorge Casuso
October 24, 2019 -- Santa Monica is so pleased with its first electric bus that hit the streets in August, the City is ordering 18 more at a total cost of $19 million.
The City Council on Tuesday voted unanimusly to purchase the new buses from Gillig LLC, as well as 18 charging stations for an additional cost of $2.457 million.
"The bus has performed well, and staff has received positive feedback from motor coach operators who have driven the bus and customers who have ridden on it," staff said in its report to the Council.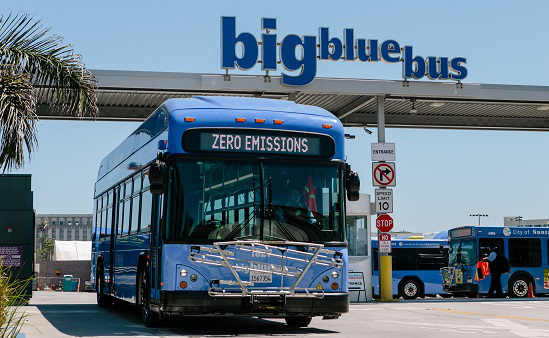 Santa Monica's first electric bus (Courtesy Center for Transportation and Excellence)
The first 40-foot prototype battery electric bus (BEB) began operating on August 13 and provides daily service on Big Blue Bus (BBB) Routes 1, 3 and 9, according transit agency officials.

To add the vehicle, the City last year altered its contract with Gillig to exchange the electric bus for one of the 20 Compressed Natural Gas (CNG) buses it purchased at an additional cost of $429,559 ("Santa Monica Purchases Its First Electric Bus," July 31, 2018).
The City also signed a $131,500 contract with the Center for Transportation and Excellence (CTE) to help assess the charging equipment and technology.

Tests performed by the contractor in the fisrt two months of service found the pilot battery-electric bus "has performed well," staff said.
The new buses will replace 18 Liquefied Natural Gas (LNG) buses purchased in 2004 and 2006 that are due to be replaced, staff said.
BBB replaces its buses every 12 years or 500,000 miles.

The price for each of the 18 electric buses is $990,489, which includes $89,660 in taxes. There is an additional 5 percent contingency totalling $891,440.
Each of the 18 chargers costs $124,093 for a total of $2,233,674 with a 10 percent contingency, brining the total to $2,457,041.
Spare parts cost a total of $150,000, with another $150,000 for training.
The 19 electric buses comprise about 10 percent of the fleet of 195 vehicles the agency operates.
Although initially costly, electric buses have been found to be less expensive over the long term and provide an environmentally cleaner service, BBB officials said.
The new buses help the City meet its goal of "transitioning the BBB fleet to zero emissions buses by 2030," staff said.
The purchase of the new buses comes in the midst of a decline in BBB ridership ("Ridership Plunges on Santa Monica City Buses as Expo Popularity Soars," January 17, 2018).
A 2018 report from UCLA's Institute for Transportation Studies attributes plummeting bus ridership across Southern California to a loss of low-incme riders ("UCLA Study Suggests Low-Income Riders in Santa Monica, Southern California Switching to Own Wheels," February 6, 2018).

These riders, particularly immigrants, are abandoning public buses and, in most cases, the region's light-rail systems, as they scrape together enough money to buy their own vehicles, the study suggests.