By Lookout Staff
October 15, 2019 -- Santa Monica Colllege (SMC) will celebrate its 90th anniversary next week with a celebration that includes a ribbon cutting ceremony for the new Student Services Center.
The celebration kicks off Tuesday 11:30 a.m. with the ribbon cutting for the signature gateway building on the main SMC campus at 1900 Pico Boulevard.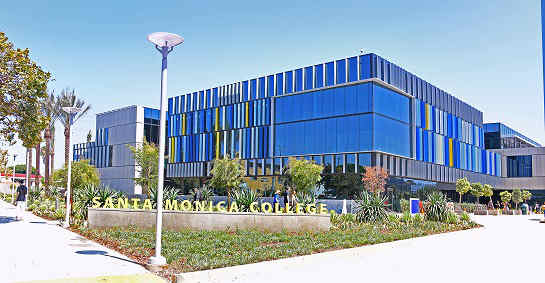 New Student Services Center (Images Courtesy of SMC)
The new three-story student center "houses the largest network of counseling and student support services in California," college officials said.
The building -- designed to meet LEED Platinum standards -- incorporates innovative solar, cooling, water-saving and natural light features, and houses a 500-space underground parking garage, officials said.
The features include "a generous setback from the street, drought-resistant landscaping, visually striking solar screens and distinctive LED accent lighting," officials said.
That evening, a free reception at 5:30 p.m. hosted by the Santa Monica College Associates and the SMC Associated Students offers an opportunity "to meet the people who make SMC the success it is today," officials said.
Darroch "Rocky" Young

The reception includes hors d'oeuvres and light refreshments.

The celebration culminates at 7 p.m. with a keynote address by Darroch "Rocky" Young, a former vice president of SMC and retired Chancellor of the Los Angeles Community College District.

Young has "written, lectured, and consulted extensively on leadership in higher education, particularly in community colleges," officials said.
Introductory remarks will be made by SMC Superintendent/President Dr. Kathryn E. Jeffery, SMC Board of Trustees Chair Dr. Margaret Quiñones-Perez, and "other celebratory student, faculty, and leadership voices, both past and present."
SMC started as "Santa Monica Junior College" in 1929, a watershed year that marked the end of the Roaring Twenties and the start of the Great Depression.
Today, school offers more than 110 degrees and certificates in six locations in and near Santa Monica is ranked #1 in transfers, job training, and financial aid, school officials said.
Free parking for anniversary events is available in SMC Parking Lots 3, 4, and 6, located off of Pico Blvd. Parking is allowed in student parking spaces only.
Attendees are encouraged to arrive via the Expo line, the bus, or a ride-sharing service. Various ways to reach the main SMC campus can be found at smc.edu/transportation.
More information is available at smc.edu/90 or by calling 310-434-4100.