By Lookout Staff
October 10, 2019 -- Santa Monica College (SMC) has received a nearly $2.5 million grant to help Hispanic and low-income students succeed in STEM fields and careers, college officials announced this week.
The five-year grant from the National Science Foundation is the latest funding initiative targeted for "traditionally underrepresented" students in science, technology, engineering and math, School officials said.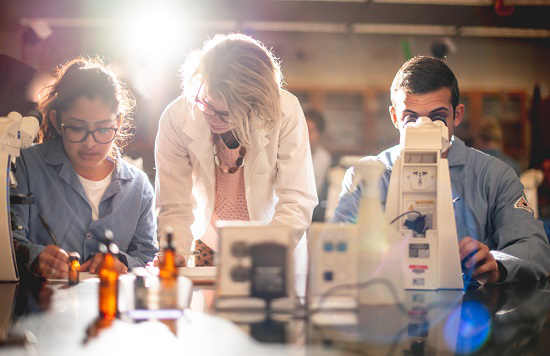 Santa Monica Colle STEM students (Courtesy SMC)
The grant from the Foundation's Hispanic-Serving Institution Program will help SMC consolidate the work of its STEM Science and Research Initiative and the Center for Teaching Excellence, school officials said.
The two initiatives will use the money "to study and create interventions that affect the success of students in STEM, including the use of curriculum and instructional practices," officials said.
"The impact of this grant will extend well beyond the length of its tenure," said SMC Earth Science Professor Dr. Ciaran Brewster, who will be one of the grant's co-principal investigators.
"A major focus of our work will be on ensuring that new faculty are exposed to evidence-based, equity-minded teaching practices," Brewster said.
NSF Program Director Talitha Washington said the funded projects have "the potential to create more inclusive learning experiences and ensure that STEM undergraduate students have the support they need to achieve their educational goals.

"Beyond looking at students, this project will engage faculty, helping them develop effective strategies to create a culturally diverse student population," Washington said.
The grant comes three years after the U.S. Department of Education gave SMC a nearly $6 million grant to expand opportunities for Hispanic and low-income students in STEM programs.

The five-year grant is being used to support the activities of the STEM Learning and Leadership Innovation Center ("Santa Monica College Awarded $6 Million Grant to Expand STEM Program," October 6, 2016).
In 2017 SMC was chosen to partner with UCLA in a pilot four-year program that prepares future teachers in STEM ("Santa Monica College to Partner with UCLA in New STEM Program," October 9, 2017).
The Integrated Teacher Preparation Program allows SMC students to earn a bachelor's degree from UCLA and a preliminary teaching credential in four years, officials said.
They can they earn a bilingual authorization certification within six months.

For more information on the STEM program at SMC, visit www.smc.edu/stem or call (310) 434-3988.