By Jorge Casuso
October 9, 2019 -- Oscar de la Torre -- whose Pico Youth and Family Center (PYFC) has served at-risk youth for nearly two decades -- announced he will resign as the center's executive director at the end of the year.
The School Board member said the center, which has increasingly taken an advocacy role, has succeeded in forcing the City to address issues in a neighborhood that is home to many of the City's Latinos and blacks.



Now, he says, it is time to move on.

"The center transformed the relationship between the City and the Pico Neighborhood," de la Torre said. "It led to the biggest investment the City has made" in a neighborhood that was long neglected.

The center, which opened in 2002 and offers after-school programs and services, has also "decreased gang violence and increased college graduation rates," de la Torre said.
De la Torre, who has served on the School Board since 2002, announced that the center's associate director Alex Aldana, one of the original students served, will take over.
De la Torre will stay on the board of directors to advise the PYFC and help in its fundraising efforts.
"I've been around for more than 17 years," he said. "The young people we started serving in 2002 are parents now. It created community.
"I did my job. I feel I accomplished a great deal. And it's time for something new."
De la Torre said he and his wife, activist Maria Loya, a plaintiff in the ongoing voting rights lawsuit against the city, will focus on starting a social justice consulting firm.
The firm, Holistic Strategies, will allow the couple "to take our experience to help other movements and other causes and advance social justice," he said.
For nearly 18 years, De la Torre fought to keep the organization alive, with or without City funding.
The PYFC was started in the wake of a rash of gang shootings that claimed five lives in 1998 and led to a march by a thousand residents de la Torre helped organize.
The center initially faltered in 1999 before it relaunched in 2002 with a $350,000 grant from the City.
But the relationship grew increasing contentious as de la Torre engaged the center's clients in advocacy efforts that criticized the City's policies in the Pico Neighborhood.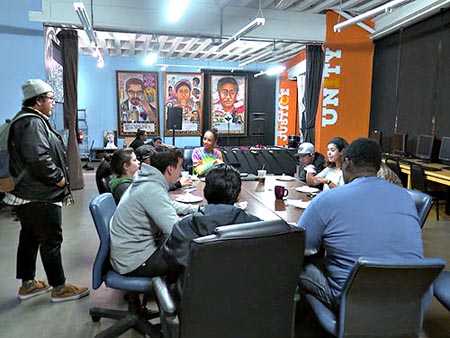 Pico Youth and Family Center in 2015 (Courtesy PYFC)
In 2013, after City staff accused the PYFC of shifting its focus from serving youth to "social justice and community organizing," the City Council slashed its funding by $90,000.
After a one-time bailout of $190,000 in 2014, the center was rejected for any direct funding the following year ("Santa Monica Youth Center Denied Grant after Final Plea for Funding," June 24, 2015).
Mired in controversy and financially abandoned, the PYFC saw its membership dwindle from 240 clients during its heyday to a caseload of 139.

It shed staff and was able to raise enough money to fend off bankruptcy ("Santa Monica Pico Youth And Family Center May Have to Close," May 22, 2015).
The center's survival was secured after it received ongoing funding in the form of a $1.6 million endowment from late philanthropist Peggy Bergmann ("Legal Battle Over $1.6 Million for Santa Monica Youth Center Ends," October 7, 2013).
The center also began holding more fundraising events and attracting new partners, among them Tiny Rebellion, a local high-tech advertising agency ("Pico Youth and Family Center in Santa Monica Sees New Hope," January 4, 2017).
De la Torre said he doesn't expect the City will resume funding the PYFC after he steps down, but he believes the center will continue furthering its mission.
"We won't get awards from the City," de la Torre said. "But we'll eventually get national recognition for what we've done."