By Lookout Staff
May 21, 2019 -- Those fascinated by the art of dance can catch local choreographers going through their creative motions at Santa Monica Beach next month.
From Tuesday, June 18 through Sunday, June 23, the Annenberg Community Beach House will host "Beach Dances," curated by Allison Wyper with Rhizomatic Arts, Santa Monica Cultural officials announced this week.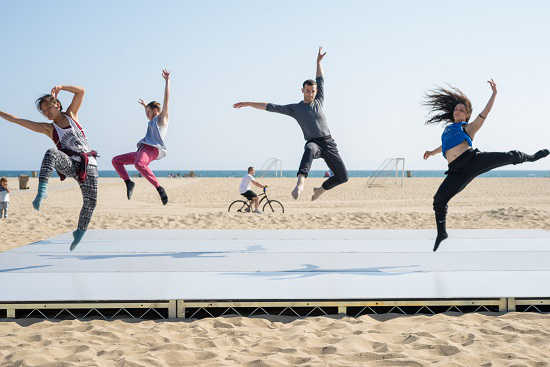 Sarah Elgart / Arrogant Elbow and company rehearsing during "Beach Dances" in 2018 (Photo by Jason Abraham)
Titled "Beach Dances: Shared Practice," this year's program features "a week of local choreographers rehearsing and engaging the public on a sand-level platform," organizers said.
"Beach Dances" includes free open rehearsals, performances and participatory movement workshops.
"Choreographers use dance to practice their cultural identities and relationships to place and environment," Wyper said.
They also use the art "to heal generational trauma, and practice inherited traditional ways of being in the world and to invent new ones. Dance practice is community practice."
On Saturday June 22, from 6:30 to 8 p.m., Rhizomatic Arts will host a picnic hangout for "artists and allies," followed by a performance featuring short works that have been rehearsed throughout the week.
And on Sunday, June 23 from 5 to 7 p.m., there will be "an improvisational encounter featuring selected choreographers, performance artists and dancers," organizers said.
Free workshops based in diverse movement practices including Cumbia, Flamenco, New Orleans Bounce and Yoga will be offered throughout the week.
Choreographer Christine Suarez said rehearsing in a public setting enhances her creativity.
"The times that I have danced and created in public space have been very profound," Suarez said.
"It's a rich exchange that opens me up in a way that I can't find when I'm in a studio."

For more information about rehearsals, workshops and performances, visit santamonica.gov/beachdances.
"Beach Dances" is part of the Beach=Culture series,presented by Santa Monica Cultural Affairs at the Annenberg Community Beach House.
The Annenberg Community Beach House is located at 415 Pacific Coast Highway.