By Lookout Staff
May 20, 2019 -- A redesigned diner that stands at what was once the end of Route 66 and the city's latest historic district are among the winners of this year's Historic Preservation Awards, the Santa Monica Conservancy announced Monday.
Special awards also were given to Sherrill Kushner, one of the founding members of the Conservancy's Board, and Margaret Bach, a member and Chair of the inaugural Landmarks Commission.
Mel's Drive-In (Images courtesy Santa Monica Conservancy)
Kushner was given this year's President's Award for her work in forming two of Santa Monica's four historic districts and "enriching the Conservancy's communications and marketing over her years of service," Conservancy officials said.
Bach, who first served on the Landmark's Commission when it was formed in 1976 and returned in 2006, was given the Preservation Education Award for "using her research to offer portraits of various aspects of Santa Monica's history."
Among those recognized with Historic Preservation Awards were Susan Suntree and Diane Miller, co-chairs of Friends of 11th Street.
Earlier this year, the group won a decades-long battle to designate a handful of early Santa Monica bungalows as the city's fourth historic district ("Council Approves Santa Monica's Fourth Historic District," January 23, 2019.)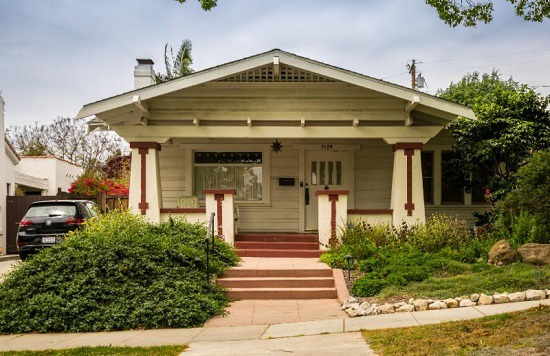 Craftsman bungalow on Ashland Avenue
Other winners of Historic Preservation Awards was the owner of Mel's Drive-In for his commitment to restoring the building that once stood at the western edge of "America's Highway" and "repurposing" its distinctive Penguin sign ("Restaurant Returning to Santa Monica's Old Penguin Coffee Shop Location," September 23, 2016).
"The interior's ambiance was re-established with period-specific furnishings and lighting. And the Mel's team highlighted the Drive-In's location at the end of Route 66," Conservancy officials said.
The owners of a classic 1916 Craftsman bungalow at 1129 Ashland Avenue won a Historic Preservation Award for restoring "a pioneering residence in Sunset Park (built) when it was primarily agricultural."
The owners of a 1906 cottage at 954 5th Street were recognized for rescuing the severely deteriorated landmark that "is one of the last intact examples of the hipped roof, turn-of-the-century cottages" in Santa Monica.
And the owners of the French Beaux-arts Period Revival home at 147 Georgina Avenue were recognized for their efforts to restore the home designed in 1911 by master architect R. D. Farquhar "for himself and his wife, the daughter of Santa Monica co-founder, Senator John P. Jones."
The Awards Committee was chaired by Board member and architect David Kaplan and included Margarita Jerabek, Ruthann Lehrer, Carol Lemlein and Rachel Pietron.