By Jorge Casuso
May 20, 2019 -- Santa Monica police are seeking victims in a burglary scheme that targeted elderly residents earlier this year.
The suspects -- Diana George and possibly Richard Ely -- entered victims' homes in January and February by posing as gardeners or pretending to be new neighbors, police said.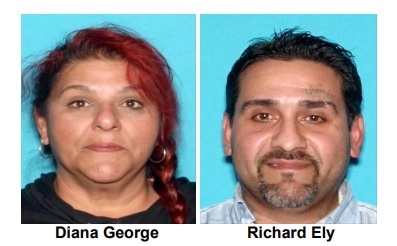 Courtesy Santa Monica Police Department
"Once inside the residence, George would distract the resident by asking for a glass of water, while the male suspect scoured the house for jewelry and cash," said police spokeswoman Lt. Candice Cobarrubias.
Both suspects have a criminal history of thefts involving elderly victims, and have felony warrants for similar crimes in other states, Cobarrubias said.
The two were arrested in Shiloh, Illinois earlier this month after entering an elderly woman's home without permission on April 18, according to news reports in the southwestern Illinois town.
The suspects stole cash and jewelry before the victim noticed them going through the house and asked them to leave, according to the local Sheriffs.
George and Ely were arrested after the victim gave officers a description of the two suspects and their car.
They were each charged on May 3 with one count of burglary and one count of theft and are being held in Madison County Jail on $100,000 bond.
George and Ely are also facing charges in the burglary of a couple in their eighties in Collinsville, Illinois.
The elderly woman told Fox/News 11 the suspects came to her front door and "pretended they lived in the neighborhood and were selling cookbooks."
The two suspects came into the home uninvited and "pretended to be chatty neighbors, and took off with cash," the local station reported.
She said that the same incident had happened to another woman who lives down the street.
George is a resident of Lakewood, California, and Ely of Upland, California.
Santa Monica police are seeking additional information regarding incidents with similar circumstances involving George and Ely.
Anyone who may have been a target of such crimes should call Detective Tavera at (310) 458-2256 or the Watch Commander (24 hours) at (310) 458-2249.