By Lookout Staff
May 16, 2019 -- Nearly three dozen Santa Monica College (SMC) students graduated from the school's Law Pathway Program, more than triple the number that graduated in the program's first year.
Graduates of the three-year-old program, which prepares traditionally under-represented students to become competitive applicants to law school, held an informal ceremony on Tuesday to celebrate their success.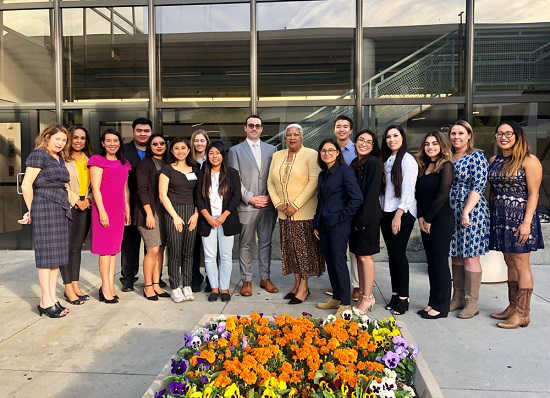 (Left to Right) Business Professor Dana Nasser, Daniela Kelly, Director of Academic Affairs Initiatives Edna Chavarry, Camilo Ciau, Xochitl Perreria, Allyson Paige Marquez, UCLA student & SMC Law Pathway graduate/guest speaker Karen Funk, Liliana Hernandez, keynote speaker Daniel Kolko, SMC Superintendent/President Kathryn E. Jeffery, Xochitl Buenabad, Ethan Cruz, Aileen Rodriguez, Jasmine Marcial, Zahra Fatemi, Political Science Professor Christina Gabler, and Career Services Advisor Joan Kang.
The number of graduates has been growing rapidly -- from 10 students in 2017, to 16 students in 2018 to 34 this year.
"We are actively working to grow a program that is a robust pathway for traditionally underserved students towards a career in law," said Edna Chavarry, director of Academic Affairs Initiatives at SMC.
The 34 graduates this year are transferring to universities that include UCLA, Columbia University, UC Irvine and California State University, Los Angeles.
By completing the program, the students earn priority admission review at the schools of law at Santa Clara University, UCLA, UC Davis, University of San Francisco, Loyola, USC, UC Irvine and UC Berkeley.
The "rigorous" pre-law program at SMC requires completion of nine courses and offers mentoring, exposure to careers in law, networking opportunities, tailored counseling and leadership training, school officials said.
It also includes "an experiential learning component" at participating legal organizations including the American Civil Liberties Union (ACLU), Bet Tzedek and Neighborhood Legal Services of Los Angeles County.
"The backbone of the Law Pathway Program is the incredible staff at SMC, our advisory council, and California Law, Inc., "whose mission is to establish a pipeline of diverse students into law so that the legal profession reflects the diversity of California," said Chavarry.
The keynote speaker at Tuesday's ceremony was Daniel Kolko, J.D. candidate at the UC Irvine School of Law and an SMC and UCLA alumnus.
"At Santa Monica College, you get to define what your future will look like," Kolko said. "You're given a platform from which you can take off as far as you aspire to.
"This is a school that truly cares about ensuring that the student body has this opportunity."
SMC formed the Law Pathway Program after joining the California Law Community College Pathway to Law School Initiative in 2015, school officials said.
The initiative is "a collaborative effort between California Law Inc., The State Bar of California's Council on Access & Fairness and 29 community colleges and 8 law schools, officials said.
For more information, visit the program's website at smc.edu/LawPathway or contact Chavarry_Edna@smc.edu.