By Jorge Casuso
May 14, 2019 -- Boston mobster Whitey Bulger, who was killed in prison last October, said he "predicted" that feeding a homeless cat in Santa Monica "will cost me my life."
The insight was included in one of the letters Bulger wrote from prison to Marin County resident Candace Lind and published in the Boston Globe on Tuesday.
In a letter dated June 25, 2017, Bulger said his girlfriend Catherine Grieg, who shared a love of animals, had insisted on taking in a homeless cat named Tiger that a longtime neighbor had been feeding.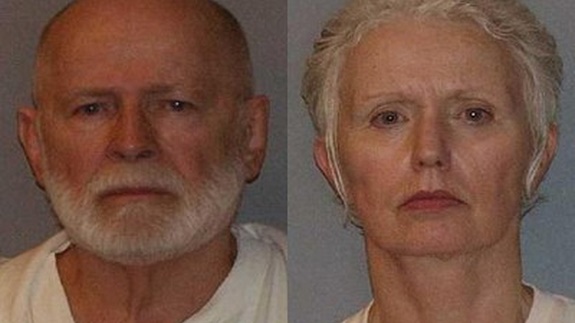 Mugshots of James Bulger and Catherine Grieg (Courtesy U.S. Marshals Service)
When the neighbor moved into a nursing home, Grieg began feeding Tiger twice a day outside the Princess Eugenia apartments on 1012 Third Street that Grieg and Buger shared for 15 years.
This, Bulger wrote, attracted the attention of a neighbor across the street.
"When the FBI featured (Grieg) on TV," Bulger wrote, the "woman called FBI" which "led to our capture."
"I predicted feeding that cat will cost me my life -- knew we were being noticed for it," Bulger wrote. "Catherine said if we don't feed the cat he will starve."
He and Catherine, he said, were willing to take the risk.
"We had no choice in a way-- we both loved cats and dogs and fed them and gave $ to people who fed feral cats etc.
"I and Catherine never lament over it a risk we felt we couldn't walk away from."
On June 22, 2011, FBI agents took Bulger into custody outside their residence. Greig was arrested inside the apartment a short while later, where a substantial cache of guns and cash were discovered, the FBI said.
The couple were reported to have been living under the aliases of Charles and Carol Gasko ("Whitey Bulger Lived in Santa Monica 15 Years, Reports Say," June 24, 2011).
In August 2013, Bulger was convicted of 11 murders and of extortion and racketeering schemes that allegedly brought in more than $25 million ("Jury Finds Mobster James "Whitey" Bulger Guilty of Murder, Drug Dealing," August 13, 2013).
The 89-year old Bulger was serving two consecutive life sentences when he was was beaten to death by two other inmates last October ("Former Santa Monica Resident "Whitey" Bulger Found Dead in Prison Cell," October 30, 2018).
He had been on the FBI's list of 10 most wanted fugitives for 16 years.
Grieg was sentenced to nine years for her role in helping Bulger evade law enforcement during the couple's years on the run.