By Lookout Staff
May 8, 2019 -- More than 100 kids found unraveling the principles of gravity and other scientific mysteries can be fun at the 2nd Annual Santa Monica College (SMC) STEM Festival on Saturday.
Organized by the student-run SMC Chemistry Club, the free community festival was attended by schoolchildren from Santa Monica and the Westside, some accompanied by their parents.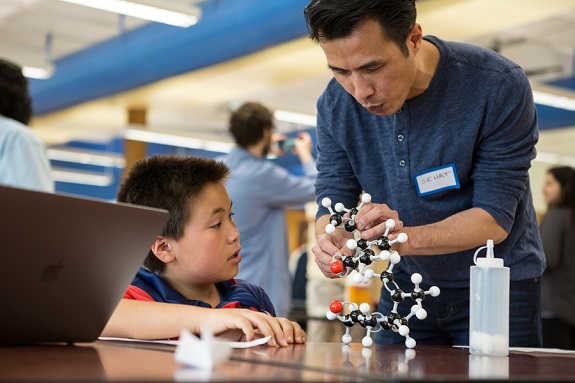 Volunteer teaches student about molecules (Photos courtesy Santa Monica College)
The festival helps pique the children's curiosity and encourages them to pursue an interest in science, technology, engineering and math, officials said.
"The day turned out exactly the way I hoped it would," said Dr. Jennifer Hsieh, SMC Associate Professor of Chemistry and a faculty advisor to the SMC Chemistry Club.
"There was never a lull, our volunteers were busy presenting their activities and our visitors never had to wait long to participate.
"Every person I spoke with expressed how much they loved the event," Hsieh said.
A total of 59 SMC student and faculty volunteers presented activities "designed to help participants learn about STEM in an engaging way," organizers said.
The activities included live demos and experiments featuring "the extraction of genomic DNA from strawberries, a coding activity and a hydrogen fuel cell demo."
Last year's inaugural STEM Festival was recognized among the accomplishments of the SMC Chemistry Club when it was presented with the "Outstanding" award from the American Chemical Society earlier this year.
It was the second year in a row the Club won the award given by the world's largest scientific society ("Santa Monica College's Chemistry Club Wins Major Recognition for Second Straight Year," April 2, 2019).
SMC's STEM Program, which encompasses "distinctive, hands-on academic instruction" and tutoring, serves as "a gateway to research and internship opportunities at JPL (Jet Propulsion Lab), NASA, UCLA, and more," school officials said.
Co-sponsored by the Associated Students of Santa Monica College, the Festival helped celebrate Earth Week.
For more information about SMC's STEM Program visit smc.edu/STEM.