By Lookout Staff
May 6, 2019 -- The buildings they designed in Southern California are more famous than their names -- the Elks Lodge in Los Angeles and Grauman's Million Dollar Theater, among them.
On Sunday, May 19, at 2 p.m., author Antonio Gonzales will discuss his book "Architects who Built Southern California" in the Santa Monica Main Library's Martin Luther King, Jr. Auditorium.
Sponsored by the Society of Architectural Historians, Southern California Chapter (SAH/SCC), the talk offers a visual tour of the works of ten architects who shaped the region.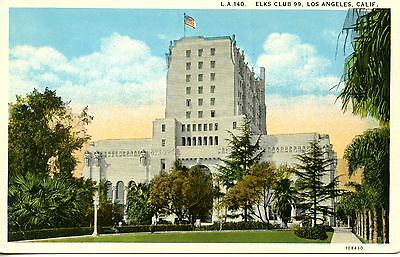 Postcard of Elks Club building designed by Claud Beelman
Their buildings rose in the early 1900s, when "the Southern California population grew at such a rapid pace that builders could hardly keep up," organizers said.
Among the architects whose work is featured is Claud Beelman, a man who never received a college degree but would go on to design the Elks Lodge in Los Angeles among dozens of other commissions.
Now The MacArthur, the Gothic Revival building appeared in a dozen feature films, including "Barton Fink," Buffy the Vampire Slayer," "Stargate" and "Reservoir Dogs," as well as in a dozen TV shows.
Another featured architect is Albert C. Martin, who designed Grauman's Million Dollar Theater and founded the architectural firm AC Martin in Los Angeles "that is still going strong more than one hundred years later," organizers said.
Some of the other ten architects featured are Harrison Albright, John Austin, Elmer Grey, Hudson & Munsell and Alfred Rosenheim.
Gonzales, a long-time librarian at USC's Architecture and Fine Arts (AFA) library, holds a BA in Journalism from the University of Iowa and a MLIS from San Jose State University.
A book sale and signing of Gonzales' book follows the presentation.
The program is free and all ages are welcome. Space is limited and on a first-arrival basis.
For more information, visit smpl.org or contact the Santa Monica Public Library at (310) 458-8600.