By Lookout Staff
May 2, 2019 -- Kuuyam, the Tongva word for "guest," will be the theme of the second annual "Indigenous Now," a celebration of native art held in Santa Monica this month.
The day of dance, music, spoken word, and visual art by Indigenous artists based in Los Angeles, Santa Rosa and Santa Fe takes place May 11 at Tongva Park, City officials said.
The celebration kicks off at noon with an opening blessing and features art installations and performances "which repeat at intervals over the course of the four-hour event," officials said.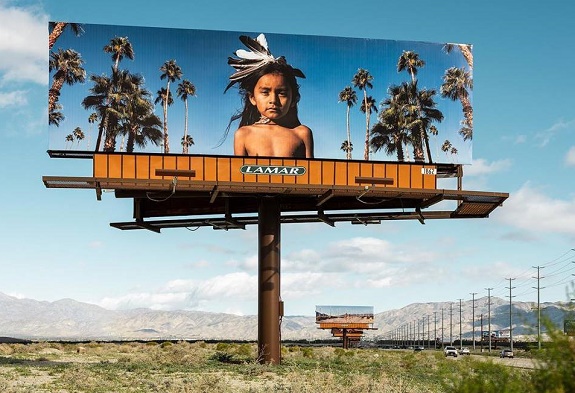 Billboard-sized photographs byCara Romero (Courtesy City of Santa Monica)
"Guests are invited to move through the park freely encountering each performance and installation at their own pace," they said.
Participating artists include Dancing Earth, with performers Snowflake Towers (Yaqui/Tzeltal), Natalie Benally (Dine/Zuni/Ute) and Dakota Camacho (Matao/Chamoru).
Also participating are singer-songwriter Kelly Caballero (Tongva) and hip-hop recording artist Jessa Calderon (Tongva).
Billboard-sized photographs by artist Cara Romero (Chemehuevi) will be on view at multiple locations throughout the park, officials said. The exhibition was part of the 2019 Desert X exhibition in Coachella Valley.
Legendary artist L. Frank (Tongva) will exhibit a new sculptural installation commissioned especially for "Indigenous Now."
The Tongva peoples are the traditional land caretakers of Tovaangar, which was composed of the Los Angeles basin and the Southern Channel Islands, officials said.
The free event is open to all indigenous peoples and "everyone who wishes to learn how to be a good guest," officials said.
For more information about the program and the concept of Kuuyam, click here