By Lookout Staff
June 14, 2019 -- An estimated 8,000 people packed the stands at Corsair field Tuesday evening to celebrate the largest graduating class in Santa Monica College's 90-year history, college officials said.
California Secretary of State Alex Padilla addressed the more than 750 graduates in attendance, sharing his Mexican immigrant family's story and lauding the power of education to transform lives.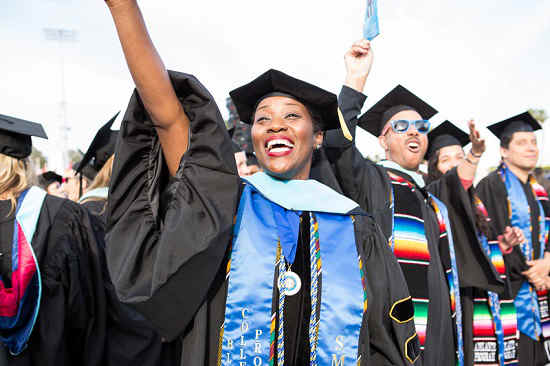 One of 24 students who received BA degree in Interaction Design (Photo Credit: Santa Monica College / Photos by Amy Williams courtesy of Santa Monica College.)
His father, Padilla said, had a first grade education and worked as a short-order cook for 40 years, while his mother, who finished elementary school, cleaned houses.
"Think about that," he told the graduates. "In one generation, my family has gone from being immigrants, cooks, and house cleaners, to public servants like myself, standing before you as a constitutional officer for the state of California."
While the American Dream "is under attack at times, [it] lives on," said Padilla, who attended LA public schools and graduated from the MIT with a degree in mechanical engineering.
This year SMC awarded 9,110 degrees and certificates to 5,905 students, including 24 Bachelor of Science in Interaction Design degrees, marking the second class in the school's history to graduate with a BA degree.
The two youngest graduates were 17 and the oldest, Saul Isler, was 85.
Isler told LA Times columnist Nita Lelyveld he was remedying his lifelong lack of a degree "with cap, gown, pomp and circumstance."
Saul Isler, Santa Monica College's oldest graduate at age 85, reacts to applause
"After flunking out of engineering school," Isler told her, he went into the advertising business, but he also began writing novels and short stories.
So when he decided to enroll at SMC, Isler concentrated on the things he enjoyed, like writing and jazz appreciation.
In his commencement speech, Padilla commended Isler for proving that "it's never too late to learn."
He also encouraged the graduates to register to vote -- under his watch, California reached a record 20 million registered voters in March -- and make their voices heard.
And he urged them to use their education and skills to "keep this state golden."
SMC Superintendent/President Dr. Kathryn E. Jeffery was master of ceremonies and SMC Board of Trustees Chair Dr. Margaret Quiñones-Perez gave the welcoming address.
The ceremony included a faculty challenge by SMC Art History Professor and Academic Senate President Dr. Nathaniel Donahue and a student challenge by Maya Thompson.
The commencement festivities concluded with an "Alumni and Friends" reception in the SMC quad.
Tuesday marked the 10th year in a row that the event was shared worldwide through a live webcast.
To view more photos and read more about the 2019 commencement ceremony, visit smc.edu/graduation.