By Lookout Staff
June 13, 2019 -- It may not be July, but Santa Monica College (SMC) is ready to celebrate independence day this month with the city's only fireworks display Saturday June 29, College officials announced Thursday.
A "dazzling fireworks show" by Rialto-based Pyro Spectaculars Entertainment will once again cap the annual "Celebrate America" festivities held the weekend before the Fourth of July, college officials said.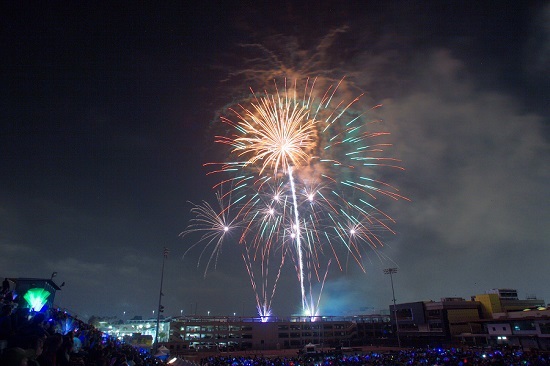 Santa Monica College's "Celebrate America" fireworks display (Courtesy Santa Monica College)
This year's event also features the popular country rock sounds of the Chris Mulkey Band and a demonstration by the SMC Cheer Squad.
Trapdoor Social, the founders of the Sunstock Solar Festival in Los Angeles, will bring its "solar-powered sound and lighting systems" to the stage provided by Santa Monica Pier.
The group has toured the country in its solar trailer, putting on "clean energy, solar-powered concerts at universities and outdoor venues," according to its website. Trapdoor Social is recording its second album.
Once again, Eddie Jauregui will be the event's Master of Ceremonies.
This year's Celebrate America festivities will feature community service booths, food trucks and food booths operated by Kettle Corn and Stuff, Pucker Up Lemonade and the Boy Scouts.
The College will showcase its offerings at the SMC 90th Anniversary Lounge, where guests can find out about the school's many academic and student support programs.
It also offers visitors a chance to learn about award-winning NPR member radio station KCRW (89.9 FM), the SMC Foundation and the acclaimed performance venue The Broad Stage at the SMC Performing Arts Center, as well as other offerings.
Picnicking is welcome, but alcoholic beverages, glass containers, barbecues, fireworks (including sparklers) and chairs with pointed legs are prohibited. SMC is a smoke free campus and all smoking is prohibited.
The college's celebration has been Santa Monica's sole fireworks display after the City's evening fireworks at the Pier, which drew hundreds of thousands of spectators, were scrapped in the late 1980s due to traffic and safety concerns.
In 1990 the City began holding a "Dawn's Early Light" celebration at 4:45 am in hopes that the early hour would result in a thinner crowd.
The plan, however, backfired when Dawn's Early Light drew 250,000 people in 1991 and required full deployment of police and fire forces for two days.
In 1992, faced with a celebration that would cost nearly $100,000 and clog the city's streets with traffic, the City Council decided to shelve the fireworks altogether in favor of a small afternoon celebration in Palisades Park.
The following year, Santa Monica College began hosting the fireworks display.
Parking lots for the festivities open at 4 p.m. (enter at Pico Blvd. and 17th St.), with Corsair Field gates opening at 5 p.m.
Entertainment begins at 6 p.m. The fireworks are scheduled at 9 p.m.
The event is free (donations are welcome), and parking is $5.

Celebrate America is presented by Santa Monica College and sponsored by the City of Santa Monica, Santa Monica Pier, T-Mobile, Halton Pardee+Partners and Associated Students of Santa Monica College.
For more information visit the Celebrate America website, call (310) 434-3001 or email COOK_VINNESSA@smc.edu.