By Jorge Casuso
June 9, 2019 -- A vandalism attack Saturday night trashed sections of the SMASH and Muir Elementary School site in Santa Monica as the academic year enters its final week, District officials said.
The attacks took place at the shared Ocean Park campus inside classrooms, the library, cafetorium, stage, teacher's lounge and bookroom, as well as in exterior areas, Disrict officials said.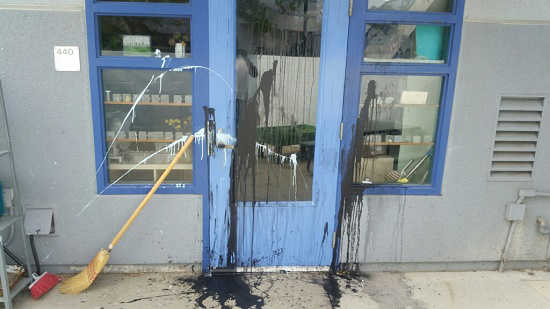 Muir Elementary (Pictures courtesy of Santa Monica-Malibu Unified School District)
"Heavy damage was done by expelling numerous fire extinguishers indoors on books, walls, flooring in classrooms and the library," District Superintendent Dr. Ben Drati said in a letter sent to parents and staff Sunday.
The vadalism spree also included "breaking windows, destroying furniture, technology and materials, dumping cans of paint on exteriors, and flooding rooms by turning on the sinks," Drati said.
It does not appear that anything was stolen, he said.
Several of the vandalized classrooms and spaces will not be available next week and classes will be held in alternative spaces for the last few days of school, Drati said.
However, the fifth grade graduation will be held Monday morning in the cafetorium as planned.
"Unfortunately banners were pulled down and the room is a mess," Drati wrote in his letter. "The operations team is onsite and working to restore as much as can be for our important ceremony and celebration."
Saturday's incident marks the third time since February that the shared site has been vandalized, although the other two incidents were not as serious, according to District officials.
Counselors will be available as needed "to meet and console with students about this crime to their 'home,'" Drati said.
The District will enhance its school security systems with "upgraded intrusion alarms, cameras around campus perimeters and electronic locks, Drati said.
The improvements will be paid for with funds from Measure SMS, a bond approved by Santa Monica voters in November.
Anyone with information about the incident should call Santa Monica Police at (310) 458-8491.
Anonymous tips can be left on the WeTip line, 800.782.7463 or online at www.WeTip.com.