By Jorge Casuso
July 17, 2019 -- The City engineer who oversaw the project that helped clean up the beach by the Pier is Santa Monica's new assistant director of Public Works.
Rick Valte, a nearly two-decades veteran of the department, will oversee a staff of more than 150 in Architecture Services, Engineering and Street Services, Office of Sustainability and the Environment, and Water Resources.

Valte assumed the $203,376 post this month, City officials said.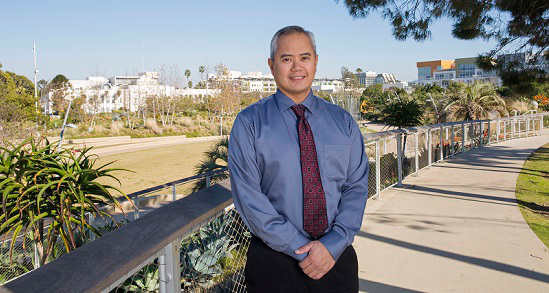 Assistant Director of Public Works Rick Valte (Courtesy City of Santa Monica)
"Rick has worked in every area of the City during his nearly two decades on our team," said Public Works Director Susan Cline.
"His broad portfolio of projects includes the Pier, water mains, parks, Big Blue Bus and permits, and he has consistently been our go-to watershed expert.
"Rick has built enduring relationships citywide through his collaborative spirit and commitment to execution," Cline said. "I couldn't be more excited to work with him in his new role."
As City engineer, Valte oversaw the planning, design, and construction of infrastructure projects and managed the City's right-of-way, Cline said.
The Clean Beaches Project he oversaw has improved water quality at the Santa Monica Pier Beach, leading to its removal from Heal the Bay's 2019 Beach Bummer list for the first time since 2013 ("Santa Monica Pier No Longer on 'Dreaded'' Beach Bummer List," June 27, 2019).
Valte began his career nearly 25 years ago working for contracting and engineering firms before joining the City.
In Santa Monica, his career has focused on land development and watershed management.
"Working for the City has always been a fulfilling experience from the front lines as a civil engineering assistant to becoming city engineer," said Valte.
"I will bring this diverse knowledge of City operations and the Santa Monica community to this new role and the exciting challenges ahead," he said.
Valte is an avid hiker and enjoys camping and traveling with his family.