By Jorge Casuso
July 15, 2019 -- Legendary jazz trumpeter Bobby Bradford next month will play at the Santa Monica Public Library, which has become a music hot spot in a city that has lost its most adventurous music venues.
Bradford -- who was as a member of jazz great Ornette Coleman's ensemble -- will bring his all-star band to the Martin Luther King Jr. Auditorium on Wednesday August 21 at 7:30 p.m.
Representing three generations of the LA musical underground, the sextet will perform a set of original music as part of the library's Soundwaves concert series.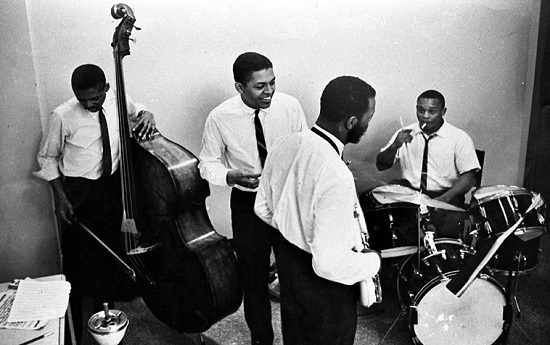 Ornette Coleman Quartet 1962 in New York City. From left Jimmy Garrison, Bobby Bradford, Ornette Coleman and Charles Moffett (Photographer unknown)
At age 85, Bradford's "skill and imagination on the cornet continue to be admired by players of all ages," concert organizers said.
Bradford, who played on Coleman's classic LP "Science Fiction" and has accompanied such major jazz artists as John Carter and David Murray, will be joined by his contemporary Don Preston on piano.
Preston is best know for his playing on Frank Zappa's "Fillmore East - June 1971," Carla Bley's "Escalator Over the Hill" and John Lennon and Yoko Ono's "Some Time in New York City."
Vinny Golia on reeds and William Roper on tuba emerged in the 1970s and 80s and have created "major bodies of work as soloists, leaders (and) collaborators," organizers said.



They have accompanied free jazz legend Anthony Braxton and Horace Tapscott, leader of the Pan Afrikan Peoples Arkestra, as well as Elton John and Patti Smith.

The youngest members of the band -- Dave Tranchina on bass and Tina Raymond on drums -- are CalArts graduate who appear on Orenda Records, "currently one of LA's hottest indie jazz labels."

The adventurous sounds brought to the public library by Soundwaves were once the staple of a vibrant local music scene that included such defunct venues as the Alligator Lounge, Temple Bar and 14 Below.
Musicians that included former Rolling Stones guitarist Mick Taylor, iconic jazz and avant garde guitarist Eugene Chadbourne, Frank Zappa sax player Bunk Gardner, Sonic Youth guitarist Thurston Moore and former Minuteman and Firehose bassist Mike Watt all played at the beach city night spots during the 1990s and early 2000s.
The Soundwaves series presents artists who appear on the DRAM (Database of Recorded American Music) streaming service. The Santa Monica Library is the first public library to offer this service to its cardholders.
Listings of past and upcoming Soundwaves shows as well as sound and video recordings can be found at SoundwavesNewMusic.com
The Main Library is served by Big Blue Bus routes 1, 7, R7, R10 and 18 and provides bicycle parking racks.
For more information, visit smpl.org or contact the Santa Monica Public Library at (310) 458-8600.