By Jorge Casuso
July 10, 2019 -- Santa Monica College (SMC) ranked third in the nation last year among community colleges with the most international students, according to a list published Tuesday by U.S. News and World Report.
SMC had 3,354 international students in the 2017-18 school year, out of a total enrollment of 29,760, according to the publication, whose rankings are widely viewed as a top reference for students and parents.
The Houston Community College System easily topped the list with 6,118 international students, while the Lone Star College System in the North Houston metro area was second with 3,366 students.
Both schools are far larger than SMC, with total enrollments of 57,120 and 72,336, respectively.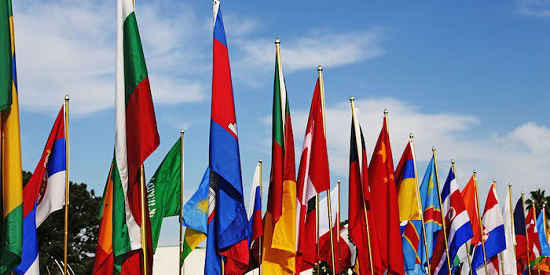 Flags from countries represented by SMC students (Courtesy Santa Monica College)
All of the other community colleges on the list had fewer than 3,000 international students, with only De Anza College in Cupertino, California topping the 2,000 mark with 2,718 students.
"International students might decide to attend a two-year college in the U.S. for a variety of reasons, such as more affordable tuition and available support for English-language learners," the U.S. News and World Report article said.
According to school officials, SMC's international students come from 110 countries. The top countries by enrollment are China, Japan, South Korea, Sweden and Turkey.
College officials attribute SMC's high ranking to a longstanding international program established in the early 1980s and the school's perennial spot atop the list of transfer schools to California university systems.
Also a major draw is Santa Monica's proximity to Los Angeles, the beaches and the entertainment industry, school officials said.
International students -- who pay $370 per unit, compared to $46 per unit for California residents -- benefit the college at large, SMC officials said.
The higher tuition rate helps SMC maintain the lowest student to counselor ratio in the state and pay salaries that attract highly-qualified faculty, officials said.
"Their numbers have allowed SMC to create and champion a comprehensive, deep curriculum that benefits everyone," said Denise Kinsella, SMC Interim Dean of International Education.
They also helped pay for the acquisition and retrofit in 1998 of what is now the Center for Media and Design on Stewart Street, officials said.
The large international student body also provides "a connection to the world and cultures outside the United States and an opportunity for all our students to develop an appreciation for the interconnected world we live in," said Kinsella
"Santa Monica College's international students are central to the distinctive global and diverse campus culture that has paid dividends not just for the college but for the community at large," she said.
International students have an positive impact beyond the campus grounds, said Misti Kerns, president and CEO of Santa Monica Travel and Tourism (SMTT).
"Not only do families and friends of international students choose to visit, many of them will base themselves in Santa Monica, supporting our local businesses," Kerns said.

"Many students also fall in love with our beachside city during their studies and become ambassadors for the destination, spreading the word about Santa Monica as a must-visit destination in California," Kerns said.