By Jorge Casuso
July 3, 2019 -- Over the 4th of July weekend, visitors to Santa Monica will likely run across some of the more than 60 sidewalk vendors jockeying for customers for the first time in 30 years.
The expanded sidewalk vending program -- approved by the City Council in April -- allows vendors to peddle their food and wares anywhere in the city except on or near the Pier ("Santa Monica Set to Expand 30-Year-Old Sidewalk Vending Program," April 8, 2019).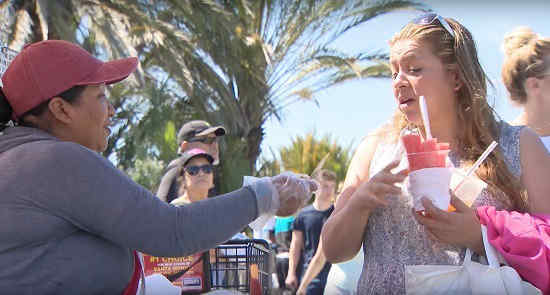 Sidewalk vendor operating under new program (Courtesy City of Santa Monica)
The two-month-old program, which is a response to a new state law meant to boost economic opportunities for immigrant and low-income communities, is off to a good start, City officials said.
So far, 66 vendors selling everything from hats and sunglasses to ice cream and food, have been licensed to operate in the City, and most of them, as expected, are concentrated near the Pier and in the Downtown.
"We feel extremely encouraged with the amount of engagement," said Deputy City Manager Anuj Gupta, who oversees the program. "We're creating a foundation for vendors to have prosperity in Santa Monica."
But the program hasn't been all smooth sailing, officials acknowledge. As eager vendors jockey to sell their wares, some are running afoul of the law.
Since the program was launched two months ago, the two code enforcement officers assigned to ensuring compliance have issued 51 citations. Of those, 37 were for vending without a permit or license.
Another 14 citations have been issued for violations that include vending on the pier or on the Pier Bridge, on the adjacent beach or near the Pier entrances.
Other citations have been issued to food vendors for operating without a Los Angeles County health license, Gupta said.
In addition, police have made seven misdemeanor arrests for obstructing or impeding pubic access and for battery, he said.
"We are leading with education," Gupta said. "The Pier safety detail prefers to educate rather than cite.
"We don't want to be in the business of issuing citations."

Santa Monica was one of the first cities to draft requirements and guidelines for sidewalk vending after former Governor Jerry Brown signed a bill last September decriminalizing street vending -- both roaming and stationary -- across California.
The City's 1989 sidewalk vending law only allowed licensed vendors to operate on the Promenade and Pier.

In addition to regulating vending on or near the pier, which allows 13 licensed vendors under a different program, the new ordinance only allows roaming vendors on the Third Street Promenade, which has as many as 32 licensed vendors using stationary carts.
Gupta said the program has expanded from the two popular destinations to the Colorado Esplanade flanking the Downtown Expo station, a trend he called "encouraging."
So far, the licensed vendors are a mixed group, Gupta said.
Many are Hispanic vendors from outside Santa Monica who are lured by the nearly 9 million annual visitors who flock to the beach city each year.
At about $160, the fees for the permits are "relatively low" and, unlike other cities, Santa Monica does not require the vendors to carry $1 million in liability insurance.
In addition, all of the program's materials have been translated into Spanish, Gupta said.
There has also been "a great degree of interest from local vendors and artisans," he said.
Gupta expects the program to continue growing, even after the summer tourist season ends.
"As far as permit applications, we'll continue to see a steady rise," he said.