By Jorge Casuso
August 27, 2019 -- Two playwrights who chronicle the plights of Native Americans and Laotian refuges are the recipients of $20,000 artist fellowships from the City of Santa Monica.
The fellowship program, now in its tenth year, is among the largest, public-sector individual artist programs in the United States, officials said.
This year's recipients are Playwright Larissa Fasthorse, a member of the Sicangu Lakota Nation, and writer/performer/director Leilani Chan, Cultural Affairs officials announced last week.

An award winning playwright, director, choreographer and performer, Fasthorse turned to writing after her career as a ballerina was cut short by an injury.

"It is especially meaningful to receive this grant from my adopted home, Santa Monica," said playwright Larissa Fasthorse, who grew up in South Dakota.
"I am proud to live in a small city that places such importance on art and local artists. I hope their example is seen widely and replicated."
Fasthorse has been awarded the prestigious PEN/USA Literary Award for Drama, the NEA Distinguished New Play Development Grant and numerous Ford and NEA Grants, among other awards.
Chan -- an award winning performance artist, actor, playwright and director -- is the founding artistic director of TeAda Production and co-creator of "Refugee Nation," the first nationally touring play about Laotian refugees in the U.S.
Commissioned by a Rockefeller Foundation MAP Fund and a NPN Creation Fund, "Refugee Nation" is a multi-disciplinary performance based on the stories of Laotian refugees and their descendants from around the country.
Leilani received the 2009 Rainbow Award from the Los Angeles Women's Theater Festival.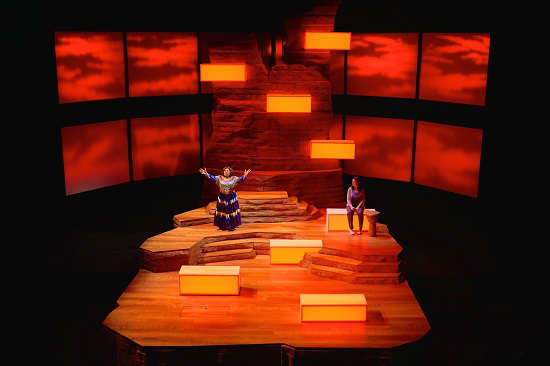 "Informed Consent" by Larissa Fasthorse, 2014 (Photo by Taylor Crichton)
In addition to the two major fellowships, the program awarded $4,200 Project Fellowships to three other local artists.
This year's recipients are choreographer Melissa Barak, photographer Anthony Friedkin and visual artist Elena Siff.
The City's artist fellowship program supports "the vital creative output and world-class visions of some of the most talented artists based in Santa Monica and all of California," officials said.
It "reinforces Santa Monica's rich diversity and the community's high regard for innovation and the fine arts."
A panel of five arts professionals recommended the awardees to the City of Santa Monica's Arts Commission, program officials said.