By Lookout Staff
August 20, 2019 -- After surviving a coastal redevelopment boom in the 1960s, Santa Monica's South Beach is once again threatened by encroaching development, the Santa Monica Conservancy warns.
On Sunday, October 20, from 11 a.m. to 4 p.m., the Conservancy will host a tour of the neighborhood's "storybook lanes" and eclectic architectural styles in an effort to launch "a renewed preservation effort."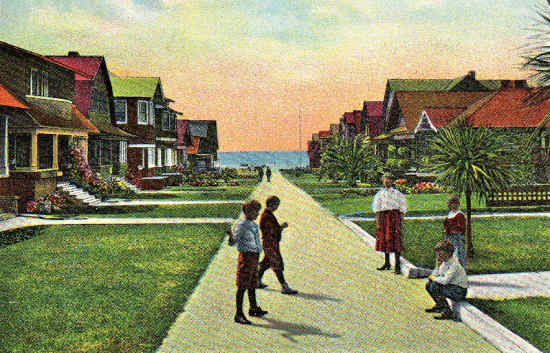 Print courtesy of Roger Genser
The tour gives participants the chance to stroll down oceanfront lanes lined with white picket fences and take in a "rainbow array of architectural styles dating back to the early 1900s," officials said.
Mostly built between 1901 and 1925, the South Beach section of Ocean Park "flourished amid a seaside housing boom at the turn of the 20th century, spurred by the extension of a Santa Fe Railroad line to the City."
The names of the early developers -- Alexander Fraser, G.A. Hart, Charles Hollister and Thomas Wadsworth -- are memorialized in the streets named after them.
These "visionaries" were able to see "the promise of comfortable family living a minute or two from the shore," tour organizers said.

The quaint streets feature homes built in a variety of styles, including American Foursquare, Craftsman, Dutch Colonial, Italian Revival and Mission Revival.
But much of the district was razed by the City's Redevelopment Agency in the 1960s and the neighborhood has survived thanks to "successful advocacy by residents."
"However, encroaching coastal development is threatening the treasured character of South Beach, and a renewed preservation effort is needed to ultimately save the unique neighborhood," Conservancy officials said.
The tour, which includes the interior of some of the homes, is followed by a separately ticketed reception at Horatio West Court, a modernist masterpiece by Irving Gill.
Tickets for the tour are $35 for members and $45 for non-members, and reception tickets are $100 and $125 respectively.
Tickets for both events are $75 for members and $95 for non-members.
Advanced purchase is required and children 12 and under can attend free of charge. For tickets click here
Proceeds will support the Conservancy's educational programs.