By Lookout Staff
August 12, 2019 -- A new pilot program launched last month that stations Santa Monica firefighters and paramedics on the north end of the beach has already reduced response times by more than half, fire officials said Monday.
Crews have been doing everything from helping visitors to the beach and pier find missing children to engaging with people experiencing homelessness and building stronger bonds with neighbors and businesses, Fire Depart officials said.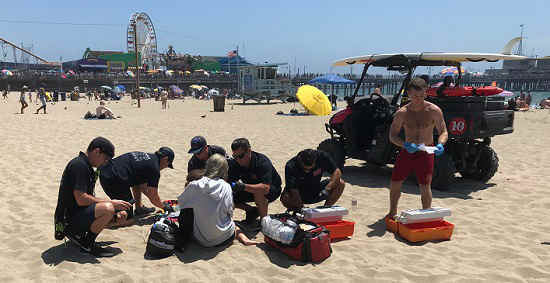 Fire personnel respond as part oof pilot program on the beach (Courtesy SMFD)
"With an ongoing presence and increased visibility, fire personnel can make a communitywide difference, including around fire prevention and preparing for serious incidents," said Fire Captain Patrick Nulty, the department's spokesman.
Responders can use a traditional fire engine, a utility-style pickup truck, medical carts and bicycles, Nulty said.
"These vehicles allow the department to respond to calls flexibly so they can reach people on crowded beaches with the most appropriate equipment," he said.
The pilot program "allows on-duty crews to use their initiative and discretion in deciding how they respond to calls and what resources are used," Nulty said.
The program is the result of a series of pilots the department has launched to test new deployment methods to respond to a rise in the number of calls for service across the city.
"Past pilots have provided data and contributed to a better understanding of how shifting existing resources and introducing more flexibility can help meet the community's needs today," Nulty said.
According to Nulty, the beach pilot program -- which runs through December -- is staffed with existing personnel and paid for with capital improvement funds.