By Jorge Casuso
August 5, 2019 -- Colombian artist Paola Escobar will explore displacement during her tenure as choreographer-in-residence at the Annenberg Community Beach House, Santa Monica officials announced last week.
During her residency from July 8 to October 9 Escobar will create a new dance performance on the themes of "nomadism, migration and home within contemporary society," Cultural Affairs officials said.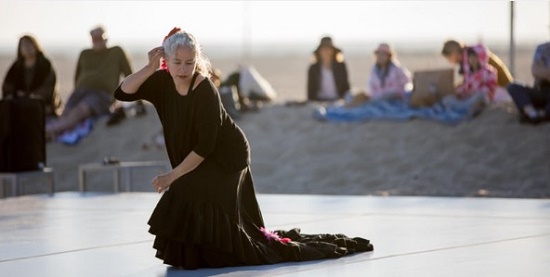 "Darning & Patching without a Nail" by Paola Escobar (Courtesy City of Santa Monica)
Tentatively titled "Darning & Patching without a Nail" the site-specific work will be performed Friday October 4 to Sunday October 6 from from 5:30 to 6:30 p.m., when the sun sets.
Escobar's work "draws upon her Latin-American background and her experience with Flamenco, African dance, social dance and contemporary artmaking," cultural officials said.
According to Escobar's website her Borderline Movement work "exists in the liminal space in-between disciplines, genres, styles and forms and questions the boundaries that separate them.
Escobar uses diverse settings to stage her works, which have been performed in theaters, black boxes, galleries and site-specific locations, and include "public interventions" and installations.

The dance pieces deal with "identity, memory, displacement, cultural colonialism and the balance between analogue and digital realities in the 21st century," according to the artist's website.
During her residency at the beach house, Escobar will "engage with guests in a spirited conversation about the possibilities of movement, their own choreographic inclinations and what it means to belong," cultural officials said.
To learn more about Escobar's progress and work, follow her weekly blog posts at beachhouseair.blogspot.com.
To learn more about the program, including how to RSVP to performances and workshops and weekly updates on Escobar's progress, click here.
Artist Residencies are presented as part of the Beach=Culture series by the City of Santa Monica's Cultural Affairs division.
The Annenberg Community Beach House is located at 415 Pacific Coast Hwy. Parking is available for $3 per hour or $8 per day. The parking machine accepts cash and credit card. Ample bike parking is available.
The Annenberg Community Beach House is wheelchair accessible and ADA compliant. For disability related accommodations, please call Guest Services at 310-458-4904.