By Jorge Casuso
October 9, 2018 -- A meandering street hidden behind tall apartment buildings, Adelaide Drive is home to some of Santa Monica's most prominent residents and oldest and most spectacular homes.
On Sunday, October 21, from 1 to 5 p.m., the Santa Monica Conservancy will offer a walking tour of the street, whose current residents include architect Frank Gehry and animator/cartoonist Matt Groening, creater of The Simpsons.
The half-mile walking tour offers "spectacular ocean and hillside vistas" and will stop at ten key points, including four gardens and two open homes, Conservancy officials said.
Adelaide Drive (Photos by Steve Loeper courtesy Santa Monica Conservancy)
Sitting at the northern edge of the Palisades Tract neighborhood originally subdivided in 1905, Adelaide offers "a remarkably intact ensemble of domestic architecture, primarily dating from the years 1906 to 1930," according to an evaluation report prepared for the City in 2011.
Five of these residences built in the early 20th century by "wealthy pioneer families" are still standing as designated landmarks, Conservancy officials said.
Two of those homes will be open during the tour -- the Colonial Revival home at 130 Adelaide Drive built in 1907 and the Norman Cottage at 518 Adelaide Drive built in 1925.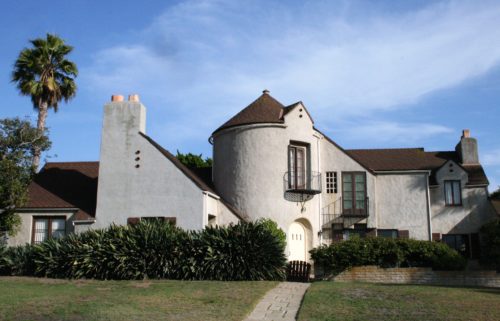 518 Adelaide Drive
The house at 130 was the residence of Roy Jones, son of Santa Monica co-founder Senator John Percival Jones, while the other was home to silent screen star Anita Stewart.
"Today, Adelaide Drive retains much of the elegance of its early days, thanks to the work of property owners and preservationists who value its historic nature," Conservancy officials said.
"However, nearby high-rise condominiums on Ocean Avenue remind us that, although change is inevitable, a balanced effort to preserve our historic heritage is also important."
The Conservancy is looking for volunteers to check-in, shepherd or serve as information specialists (script provided) on the tour.
Volunteers will be needed to work a two-hour shift (from 1 to 3 p.m. or 3 to 5 p.m.) and will receive complimentary admission to the tour.
Tickets purchased in advance are $30 for members and $35 for the general public. Those purchased on the day of the tour are an additional $10. Accompanied children under 12 years of age are free.
For more information visit http://www.smconservancy.org