By Lookout Staff
April 23, 2018 -- The Santa Monica College (SMC) Debate Team continued to garner national recognition this month, winning multiple awards at a national tournament in Florida.
Members of the team took home gold, silver and bronze medals at the Phi Rho Pi National Speech and Debate Tournament April 9 to 14 in Daytona Beach, Florida, school officials said.
The SMC team of Andrew Mishkin and Nicholas Graves won the Bronze award in the National Parliamentary Debate Association (NPDA) event.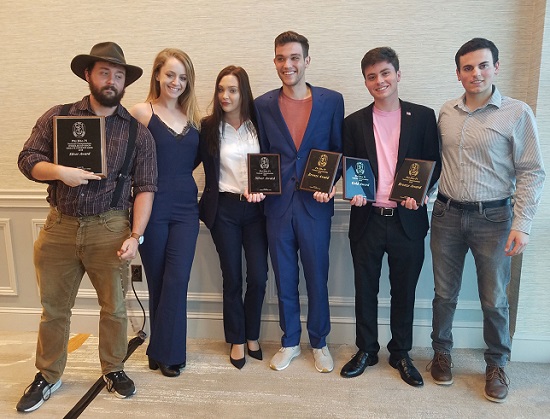 Santa Monica College Debate Team (from left) Ben Kolodny, Shaindi Schwebel, Baylynne Brunetti' Nicholas Graves, Andrew Mishkin and Kyle Lee.(Courtesy Santa Monica College)
Mishkin also won the Gold award in the International Public Debate Association (IPDA) event, with Graves winning the Silver.
The SMC team won the Silver sweepstakes award, "in recognition of a stellar performance compared to other debate teams of the same size," school officials said.
"Phi Rho was the culmination of all of the time and effort that we have put into debating," said Graves. "I couldn't ask for better teammates and coaches.
"Without them, there's no way that I could [have found this] success."
Mishkin called the Phi Rho Pi nationals a "once in a lifetime experience."
"The tournament provided opportunities for both intellectual challenge and fun," he said. "Joining the debate team has been the highlight of my time at SMC, and it was particularly rewarding to see all of our hard work pay off at the national championships."
The SMC team was coming off a streak that saw it win multiple awards at the Hornet Invitational held at Fullerton College on April 7 and at two February tournaments in Southern California.
The team worked "literally hundreds of hours in practice" leading up to the nationals, said Team Captain Ben Kolodny.
"While I didn't do as I wanted as a competitor, my team thrived," said Kolodny, who won a Bronze award in IPDA at last year's nationals. "And that's a win for any team captain."
One of the oldest forensics organizations in the country, Phi Rho Pi organizes the only full service national tournament in the U.S. for two-year colleges.