By Jorge Casuso
April 20, 2018 -- On Monday, Santa Monica's Breeze Bike Share system will expand to encompass a 35-square mile system area that includes three neighboring Westside communities, Santa Monica officials announced this week.
The network will offer 830 GPS-connected Smart Bikes available at 135 locations in Santa Monica, Beverly Hills, West Hollywood and the UCLA main campus in Westwood.
The City Council approved a five-year agreement to form the network last November("Santa Monica 'Breeze' Poised to Become Part of Larger Integrated Bike Share System," November 13, 2017).
The network -- which allows users to travel between systems using one existing account -- uses bikes equipped with integrated computer and locking mechanism.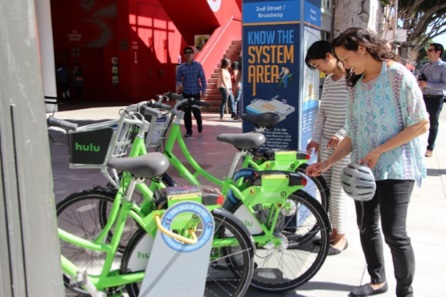 Bike share users check out Breeze bikes (Courtesy City oof Santa Monica
The system is "dock-optional," allowing users to find available bikes at stations or "out-of-hub" using the Social Bicycles app, officials said. They can lock up at designated stations or any public bike rack.

"Users will be able to travel farther throughout the Westside and not have to worry about out-of-system-area fees or extra sign-up processes," Kyle Kozar, the City's Bike Share Coordinator, told the City Council when the program was proposed last year.
Under the Regional Bike Share Memorandum of Understanding approved by the Council, each operator will ensure the bikes returned to their home base in a timely fashion.


To join the network, new users can download the Social Bicycles mobile app, select the Bike Share Connect network and choose a payment plan, officials said.
Those without a smartphone or internet access can create an account at one of the 16 self-service kiosks in the network.
"Once a member, users enter their phone number or 6-digit account number and their 4-digit PIN on the back of the bike to unlock any bike in the system," officials said.
Since becoming the first bike share program in the Los angeles Metro area in 2015, the Breeze, which is sponsored by the entertainment website hulu, has attracted more than 87,000 subscribers who have logged 1,523,726 miles on more than 690,000 trips, City officials said.
The new network is not the first time the City teams up with a bike share program in a neighboring community.
In 2016, Santa Monica entered into an agreement with the City of Los Angeles to install and operate five Breeze Bike Share stations in the Venice neighborhood.
In May, to celebrate Bike Month, the City will begin to roll out the second generation of Breeze Bikes and offer several programs to attract Breeze users, officials said.