By Lookout Staff
April 16, 2018 -- The City's 2nd annual Meet Me at Reed outdoor performance series at Christine Emerson Reed Park kicks off next Saturday with the Santa Monica Jazz All-Stars, City officials announced last week.
The concert -- which takes place from 5:30 to 7:30 p.m. -- features jazz/world guitarist Greg Porée and his outstanding combo with special guests such as Nick Mancini on vibraphone and Paul Cartwright on violin.
The performance by the Jazz All-Stars, which includes some of the best jazz musicians in Los Angeles, "will have concert goers dancing and grooving on the lawn," event organizers said.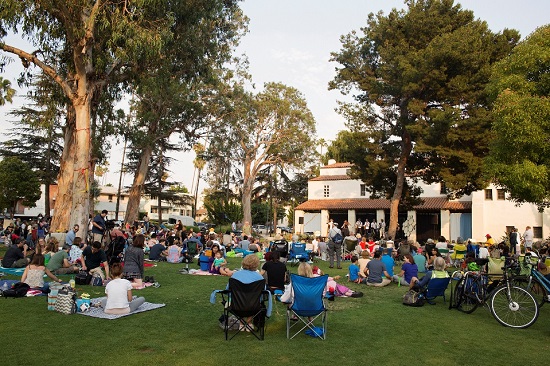 Meet Me at Reed Concert last year (Courtesy City of Santa Monica)
The performance just north of the historic Miles Memorial Playhouse, 1130 Lincoln Boulevard, will be preceded by activities for children and adults beginning at 3:30 p.m.
Park-goers will be encouraged to provide input for the update to the citywide Parks and Recreation Master Plana with a "Think Tank Vision Board" that offers "a fun way for residents and patrons to provide their thoughts and dreams about the future of parks in Santa Monica," City officials said.
There will also be Giveaways and a Parks and Rec BINGO.
This year's eight-concert series features an eclectic mix of performances, including the first-ever Santa Monica International Taiko Festival on May 19 and the Southern California Shakespeare Festival's production of "A Mid-Summer Night's Dream" on July.
Other concerts include an A Cappella Picnic showcasing some of region's best vocal groups that features a sing along with contemporary hits and American classics and the return of last year's biggest hit String Theory that features a playable harp strung across the park.
The Santa Monica Symphony will perform classic works by Vivaldi, Bach and Beethoven on July 21. For the full concert schedule click here.

Admission to each concert is free, and a free bike valet service will be available to concert goers.
Alternative transportation is encouraged to and from the concert, including use of the Breeze Bikeshare system (a station is located at Reed Park) and Big Blue Bus.