By Lookout Staff
April 10, 2018 -- The distinct works of two multimedia artists will be on display starting this month at Track 16 gallery, which relocated to Los Angeles from Santa Monica's Bergamot Station to make way for the Expo train line.
The exhibit -- which runs from April 21 to May 19 -- showcases new multifaceted works by Janie Geiser, known for her unique use of photography, film and animatronics, and Laura Heit, whose works integrate puppetry and projection.
An opening reception will be held Saturday, April 21 from 7 to 10 p.m. at the gallery. Once an anchor of Santa Monica's art scene, Track 16 is now located at 1206 Maple Ave, #1005 in Los Angeles.
In Geiser's "Parallel Storms," the Los Angeles-based artist "excavates the visual vocabulary we use to operate and construct our daily world," exhibit organizers said.
Janie Gieser's Look and Learn (Courtesy Track 16)
For the projected installation "Look and Learn Parts 2, 4, and 5" Geiser rephotographed a series of 1950's era school class photos she found and juxtaposed them with visual instructions, such as furniture assembly diagrams, how-to manuals, safety instructions and maps.
The work probes Geiser's obsession "with unearthing possible and impossible narratives from found images" and suggests "the sometimes-destructive influence of the adult-created structures that frame childhood and the practices of institutional learning," the artist said in a statement.
A pioneer of the renaissance of American avant-garde puppet theater, Geiser has received a Guggenheim award. Her film The Red Book was selected for the National Film Registry of the Library of Congress, and her films are in MOMA's permanent collection.
The gallery also will present Heit's "Too Many Days," which includes the Portland, Orgeon-based artist's hand-drawn animated installation "Two Ways Down," a work that "takes a look inside the moment of a natural disaster," exhibit organizers said.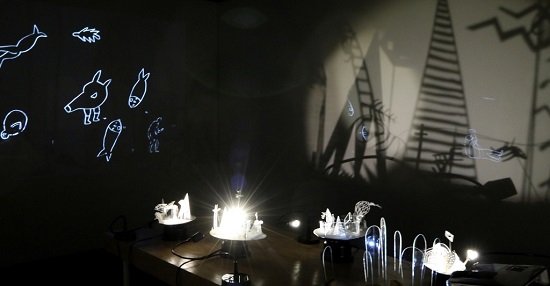 Laura Heit's "Too Many Days"
"Reflecting on the momentary nature of life, Heit's piece uses thrown shadows from table top dioramas and reflected and refracted animated projections to create a fleeting world where human-animal hybrids, specters, and body parts flit across the walls," organizers said.
Also on display will be Heit's "Future Readers," a new series of "unique cyanotypes on paper" and "Blueshifter," an animated digital video.
Heit's films and installations have been exhibited and numerous galleries and museums, including MOMA, the Pompidou Center in Paris and the Guggenheim Museum. She has been the recipient off numerous awards.
For more information call 310-815-8080.